Wins Calls for Unity, Resolve, and Honor at Academic Convocation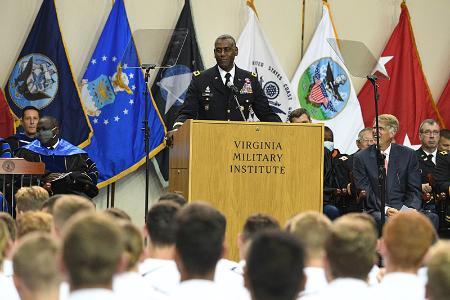 LEXINGTON, Va., Sept. 8, 2021—Maj. Gen. Cedric T. Wins '85, soon to be inaugurated as Virginia Military Institute's 15th superintendent, addressed cadets, faculty, and staff gathered in Cameron Hall earlier today for the Institute's academic convocation, the ceremonial beginning of its 182nd year.
After a virtual convocation was held in 2020, today's event marked a regathering of the VMI community after the coronavirus pandemic caused a need for social distancing, and the efforts that made it all possible were acknowledged by Wins as he thanked cadets, faculty, and staff for their commitment throughout the 2020-21 academic year. The superintendent cautioned, though, that the pandemic is not over, and that adjustments may be needed going forward this academic year.
"I ask you to remain supportive of each other, demonstrate patience if confusion or disruption arises, and remember, we want to keep our most vulnerable people safe," said Wins.
In his remarks, Wins gave his listeners an overview of outcomes he'd like to see as a result of his "One Corps—One VMI: A Unifying Action Plan," which was released over the summer as a road map forward for the Institute. This plan, Wins noted, is a successor to Vision 2039, a set of goals articulated by former superintendent Gen. J.H. Binford Peay III '62. Wins' plan will emphasize creating an inclusive Institute in which all young men and women who choose to come to VMI are treated the same way and given the same opportunities to excel.
"You must continue to respect, learn from, and rely on each other," Wins stated. "We must come together as one and not let factions form between us."
A commitment to personal honor and integrity by the Corps of Cadets was also an area of emphasis. "One day when you are far from here, you demonstrating integrity around your peers or superiors will create an unshakeable foundation of trust," the superintendent said. "I would encourage all of us to remind ourselves why we embrace a life of honor here at VMI. Encourage each other to stay focused on doing the right thing in every action you undertake."
Wins also discussed the personal growth that comes when cadets of different backgrounds get to know one another—and also the need for cadets to be vocal, if necessary, in the name of justice and equity.
"After talking with so many of you over the past year, I know there is a passion here at VMI to do what is right," he stated. "Please do not be afraid to speak up if you see something wrong."
Noting the strength of the VMI alumni network, Wins gave many examples of alumni who had forged their own paths at the Institute and then gone on to make significant contributions to their communities and the larger world, among them Air Force Gen. Darren McDew '82, an aviation specialist; Jim Spellman '85, a law enforcement officer and firefighter who assisted with search and rescue in the days following the terrorist attacks of Sept. 11, 2001; and Lara Tyler Chambers '03, one of the first women to graduate from VMI, who now runs her own land development firm.
These men and women, the superintendent noted, come from varied backgrounds but share many common attributes, such as hard work, goal setting, and a commitment to success.
"The citizen-soldier mindset is much broader than just in the military," Wins said. "It is a way of life."
As he concluded his remarks, Wins stressed the need for cadets to set goals and strive for them, keeping in mind that they are at VMI to succeed and the Institute wants no one to fail.
"Look out for one another this academic year and challenge each other," Wins counseled. "We are stronger together. Stay focused on your honor and never forget what Martin Luther King Jr. said: 'The time is always right to do what is right.'"

Mary Price
Communications & Marketing
VIRGINIA MILITARY INSTITUTE