Bettina Ring Named Erchul Environmental Leader for 2022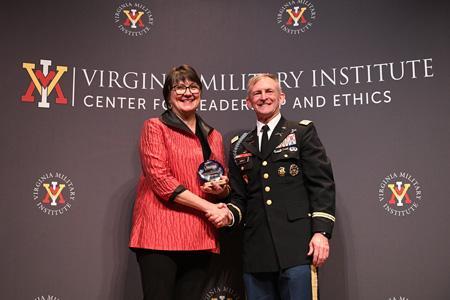 LEXINGTON, Va., March 31, 2022—The VMI Center for Leadership and Ethics, co-host and organizer of the 32nd Annual Environment Virginia Symposium, announced that Bettina Ring is this year's Captain Ron Erchul Environmental Leadership Award winner. Ring is the chief sustainability and diversity officer for the Sustainable Forestry Initiative.
The award recognizes a Virginian who has made significant individual efforts to improve the environment. Members of Virginia's environmental community nominate candidates who are judged based on their vision, expertise, commitment, integrity, communication skills, accomplishments, and diplomacy. The award is named for the late VMI professor Ronald A. Erchul, Ph.D., founder of the Environment Virginia Symposium.
Ring is an innovative and thoughtful leader with more than 30 years of expertise in the public sector and nonprofit management, natural resources management, land and water conservation, agriculture and food systems, rural economic development, and public policy. During her very impactful career, she has served as Virginia's fourth Secretary of Agriculture and Forestry, as state forester (director of Virginia Department of Forestry), deputy state forester, senior vice president at American Forest Foundation, and in leadership roles with several other nonprofits.
She has been involved in the Virginia Department of Forestry water quality efforts since early in her career, worked on the Healthy Forested Watershed Project, and served on the Chesapeake Bay Principal Staff Committee for the last four years.
In addition to her trade missions and promotion of Virginia's No. 1 and No. 3 industries, she also worked with former Governor Ralph Northam '81 and the General Assembly to increase funding for Agriculture Best Management Practices, riparian buffers, and watershed positions, and most recently in the proposed funding for re-opening New Kent Forestry Center to expand seedling capacity in the state, Trees for Clean Water and urban tree canopy, establishing the first-ever state funding for urban and community forestry and land conservation including farmland preservation funding specifically designed to address heirs property issues.
She took an active role, working with the UVA Institute for Engagement and Negotiation, to put on the Governor's Summit on Equitable Collaboration.
"Ring is an outstanding leader who is very worthy of being named this year's Erchul Award winner," said Joe Maroon, executive director of the Virginia Environmental Endowment.
Each year, Virginia Military Institute donates $1,500 to a nonprofit environmental organization of the recipient's choice in their honor. Ring has requested that this donation be made to Virginia Natural Resources Leadership Institute.
- VMI -