Environment Virginia Returns Live to VMI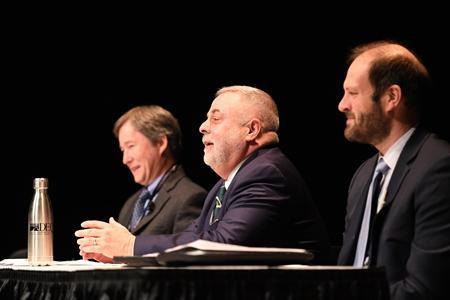 LEXINGTON, Va., April 4, 2022—The 32nd annual Environment Virginia Symposium at Virginia Military Institute returned to a live, in-person event on March 29-31. The event was held virtually in 2021 and canceled altogether in 2020 due to the COVID-19 pandemic. The event, organized and co-hosted by the VMI Center for Leadership & Ethics (CLE), attracted nearly 400 attendees from state and local governments, nonprofit organizations, higher education and the private sector. Col. Dave Gray, director of CLE, served as master of ceremony for the event.
Topics at this year's symposium included offshore wind energy, solar farm mitigation strategies, food waste, land conservation, nature-based and construction solutions, solutions to decreasing plastic pollution, algae bloom across Virginia, partnerships in the Chesapeake Bay and more.

The keynote session featured three newly appointed state government officials: Rob Farrell, director of the Department of Forestry (DoF), Mike Rolband, director of the Department of Environmental Quality (DEQ), and Matthew Wells, director of the Department of Conservation and Recreation (DCR).
Farrell serves as the eighth state forester of Virginia as well as the director of the DoF, which is responsible for protecting the forest resources of Virginia and ensuring trees and forests provide the greatest possible sustainable social, ecological, and economic benefits to the commonwealth. He joined the DoF as an area forester serving Gloucester and Mathews counties in 2000. He also served the agency as the first director of the forestland conservation program and as deputy state forester. In his opening statement at the symposium, he stated that two thirds of Virginia are covered in forest, a significant part of the commonwealth, and he supports and encourages good management of the forest. He stated that "job number one is forest fire prevention," with which he believes the department has done an exceptional job, "and our second mission is protecting the water during timber harvest." He also stated that he is proud of the conservation easement program, a legal agreement between a landowner and a government agency or land trust that permanently limits future development of the land to protect its conservation values, while providing a tax reduction for the landowner.
Rolband founded Wetland Studies and Solutions Inc. (WSSI) in 1991 and grew his company into a multidisciplinary natural and cultural resources consulting firm with a staff of more than 200. His firm constructed the first LEED Gold facility in Virginia and utilized multiple low impact development practices for stormwater management in 2005. In 2014, WSSI was acquired by The Davey Tree Expert Co. and under Rolband's leadership, expanded to include offices in Maryland and across Virginia. WSSI assisted land developers and public works agencies navigate the Clean Water Act, Chesapeake Bay Preservation Act and local environmental regulations. During his talk at the symposium, Rolband stated that the DEQ has a strong foundation, and he wants to build on it to make it better. He cited four main initiatives:
1. "One DEQ": The DEQ has six regional offices and a central office and Rolband wants a better balance of the workload among the offices to improve efficiency.
2. Permitting Enhancement & Evaluation Platform (PEEP): Rolband is developing a critical path management scheduling system for every class of permits that DEQ touches making the permitting process easier and more efficient. People applying for permits will be able to monitor the permit process online.
3. Stormwater Programs: Rolband plans on creating one comprehensive manual that does not expire. Currently there are five manuals that have conflicting rules and regulations. After the completion of the one manual, he plans to have training and certification requirements to reduce workloads.
4. Commodity Trading: There are streams, wetlands, and nutrients credits. Rolband currently sees there is a lack of information regarding supply, demand, and price. He wants a commodity trading platform that lets people buy and sell credits in real time and which get extinguished when associated with a permit used.
Wells has 20 years of experience related to Virginia politics, policy, and environmental advocacy. Most recently, he was the Senior Regional Manager for State Government Relations for WestRock, a global leader in sustainable fiber-based packaging solutions. Before joining WestRock in 2016, Wells held senior analyst and special advisory positions with Virginia's departments of Motor Vehicles and Alcohol Beverage Control. He holds a degree in foreign affairs from the University of Virginia and a certificate in sustainability from Virginia Commonwealth University. Wells stated that the parks and preserves are the "backbone of our quality of life." His focus will be on the Chesapeake Bay and the maintenance of the 2,700 dams in the state. He stated, "We must take care of our people, so my first priority is safety." He added that flood prevention and land conservation are also crucial.
A meaningful part of the annual symposium, is the announcement of the winner of the Captain Ron Erchul Environmental Leadership Award. This year's winner is Bettina Ring, the chief sustainability and diversity officer for the Sustainable Forestry Initiative. The award recognizes a Virginian who has made significant individual efforts to improve the environment. Members of Virginia's environmental community nominate candidates who are judged based on their vision, expertise, commitment, integrity, communication skills, accomplishments, and diplomacy. The award is named for the late VMI professor Ronald A. Erchul, Ph.D., founder of the Environment Virginia Symposium.
Ring is an innovative and thoughtful leader with more than 30 years of expertise in the public sector and nonprofit management, natural resources management, land and water conservation, agriculture and food systems, rural economic development, and public policy. During her very impactful career, she has served as Virginia's fourth Secretary of Agriculture and Forestry, as state forester (director of Virginia Department of Forestry), deputy state forester, senior vice president at American Forest Foundation, and in leadership roles with several other nonprofits.
Ring has been involved in the Virginia Department of Forestry water quality efforts since early in her career, worked on the Healthy Forested Watershed Project, and served on the Chesapeake Bay Principal Staff Committee for the last four years.
In addition to her trade missions and promotion of Virginia's No. 1 and No. 3 industries, Ring also worked with former Governor Ralph Northam '81 and the General Assembly to increase funding for Agriculture Best Management Practices, riparian buffers, and watershed positions, and most recently in the proposed funding for re-opening New Kent Forestry Center to expand seedling capacity in the state, Trees for Clean Water and urban tree canopy, establishing the first-ever state funding for urban and community forestry and land conservation including farmland preservation funding specifically designed to address heirs property issues.
She took an active role, working with the UVA Institute for Engagement and Negotiation, to put on the Governor's Summit on Equitable Collaboration.
"Ring is an outstanding leader who is very worthy of being named this year's Erchul Award winner," said Joe Maroon, executive director of the Virginia Environmental Endowment.
Each year, Virginia Military Institute donates $1,500 to a nonprofit environmental organization of the recipient's choice in their honor. Ring has requested that this donation be made to Virginia Natural Resources Leadership Institute.
Other awards presented at the symposium are the Governor's Environmental Excellence Awards, which recognize successful and innovative efforts that improve Virginia's environment. This year's gold medal winners are: Catawba Hospital for Greening of Government; the City of Harrisonburg Department of Public Works for the Harrisonburg urban forestry program; Coastal Virginia Ecotourism Alliance for the Virginia Water Trail; Fauquier County for Upper Rappahannock River Water Trail; George Mason University for Mason Sustainability Council's Circular Economy & Zero Waste task force and the University of Virginia for waste minimization.
Silver medal winners are the City of Petersburg for Appomattox River Trail University Boulevard Overlook & Trailhead; Virginia Tech for Plastic Pollution and Solid Waste Reduction Campus Wide Working Group and William & Mary for institutionalized composting.

Receiving bronze medal awards are Arlington-Fairfax Chapter Inc., Izaak Walton League of America for their environmental management system; Chesterfield County for North Courthouse Library Neighborhood Connector Trail; Defense Supply Center Richmond for their fuel reduction program and Virginia Tech Office of Sustainability for their student internship program.
Receiving honorable mention is Hitachi Energy USA Inc. for their Paint Line Process Improvement Project and Smith Creek Watershed Partnership c/o Ridge to Reefs, Inc. for the Yancy Bioreactor.
-VMI-