Cadet Researches Contributions of 19th Century African-Americans at VMI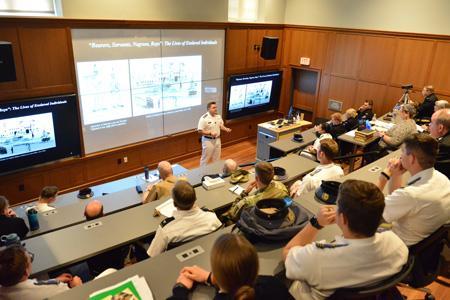 LEXINGTON, Va., April 25, 2022—Who are considered the most influential people in building VMI? Appropriate answers may be Francis H. Smith, who served as the first superintendent, or John Thomas Lewis Preston, a founder and one of VMI's first two faculty members, but Christopher M. Hulburt '22 has a different answer. In his senior thesis "Unearthed Contributors: African-Americans at Virginia Military Institute, 1839-1851," Hulburt argues that enslaved African-Americans and free people of color in Rockbridge County were equally influential as Smith and Preston and presented his thesis during Honors Week.
Hulburt is the grandson of the late USMC Retired Lt. Col. Don Travis Reed '64. He is majoring in history with minors in literary studies and Spanish. He serves as president of VMI's Omicron Delta Kappa Circle, is a peer consultant at the writing center, is Company G executive officer, a member of Phi Alpha Theta and Sigma Delta Pi, and a prosecutor on the Honor Court.
One major roadblock in Hulburt's year-long research was a lack of reliable sources still remaining that document full names and family information of enslaved African-Americans and free people of color. He was able to find information in the VMI archives of two enslaved men: Michael Lyle and Ruben Howard, who were musicians and provided the crucial rhythm and cadence for VMI cadets as they marched in parades. Lyle and Howard wore distinctive uniforms consisting of red coats, white pants, and cocked hats. Their uniforms were different from those worn by the cadets, marking a clear hierarchy. At that time, there were less than 50 cadets, all white male, so Lyle and Howard were clearly recognizable and familiar to everyone on post as well as in the city of Lexington.
In addition to Lyle and Howard, Hulburt uncovered records of two additional slaves working on post: Jack, who was a baker and whose surname was not recorded, and Anderson Dandridge, who was a cook and baker. Dandridge worked at VMI for many years, including those during the Civil War, and died in 1871. At his death, one cadet who knew him eulogized him as "a fine baker, good cook, and fair friend."
In researching free people of color during the years between 1839-1851, Hulburt continued to meet limitations in his findings. Like slaves, laborers were recorded by first name only, and because the literacy rate was low within this population, finding personal or familial records was unattainable. In addition, it was not until 1850 when the U.S. census began to count free people of color. Despite these limitations, Hulburt was able to find information on a free man named Diego Evans, who had multiple enterprises. He sold cigars and other goods, had a barber shop and cut the hair of cadets on post, and operated a livery stable. Records indicated that VMI contributed in part to Evans' ventures by paying him 41 times for services he provided. In 1850, Evans and his family relocated to Liberia, Africa, and sadly soon after died from disease.
Hulburt concluded his presentation by arguing that the tasks performed for the Corps of Cadets by the enslaved and free African-Americans during that time were vital for the day-to-day operations, and had it not been for their contributions, VMI may not have secured the subsequent state support and endowments. He went on to say that these are people who helped craft the narrative of VMI and are worthy of remembrance.
Marianne Hause
VMI Photo by Kelly Nye
Communications & Marketing
VIRGINIA MILITARY INSTITUTE