Cadet EMTs Provide Comfort and Care as Volunteers in Community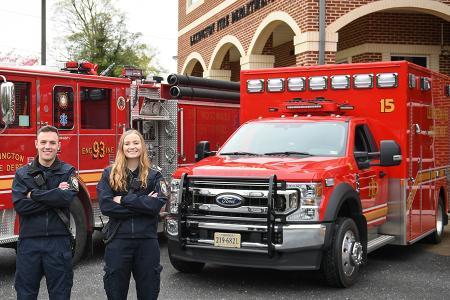 LEXINGTON, Va., April 21, 2022—Every day, a group of cadets volunteer as Emergency Medical Technicians (EMTs) on post to provide life-saving medical care in emergency situations. In addition to their efforts on post, several cadet EMTs volunteer in the community at places like the Lexington Fire Department (LFD).
Madeleine Berry '22, a biology major from Woodbridge, California, serves as cadet emergency medical services (EMS) chief on post and volunteers at LFD. Inspired to be a first responder like her father, Berry initially wanted to go into the medical field after graduation, so serving as an EMT seemed like a strong fit.
"After talking to several of my brother rats and other EMTs in the agency, they convinced me to develop my skills by working with the LFD," Berry said.
Ryan Carpino '23, a biology major from Worcester, Massachusetts, also volunteers at LFD and is preparing to take over the role as EMS chief next year. For Carpino, serving as a first responder runs in the family; his grandfather, mother, and dyke (1st Class mentor) have all served as first responders.
"To me, it was a natural progression in my life to serve others," Carpino said.
As volunteer EMTs, cadets respond to emergencies in the local area, a responsibility that is never easy.
"When someone calls 911, it is one of the scariest days of their life," Berry said. "To me, it is a privilege to be able to provide a sense of hope and comfort to them."
"It has made me a much more mature individual," Carpino added. "I am responsible for someone's life when they are in my care, and it's not just a learning environment."
Berry is thankful that the cadets work with such a supportive team at the LFD who help them process challenging situations.
Navigating the responsibilities of cadetship and volunteering can be tricky, but Carpino has seen growth in his leadership abilities.
"Working outside of VMI is another level on top of the challenges cadets face every day," Carpino said. "It has forced me to become a more accountable leader and see how leadership applies within organizations like the fire department. I have learned how to be more deliberate with my time, and I devote my 100% to all aspects of my life."
Berry has grown in confidence and decisiveness through volunteering as an EMT, and she hopes others are inspired to volunteer in their local community.
"If you have the opportunity to volunteer, go and do it!" Berry said. "Not only is it a very rewarding job, but it is also so much fun when you have great people working around you. It will push you to your limits and help you grow in ways you never would expect."
Eric Moore
Communications & Marketing
VIRGINIA MILITARY INSTITUTE