Kilbourne Papers Now Preserved at VMI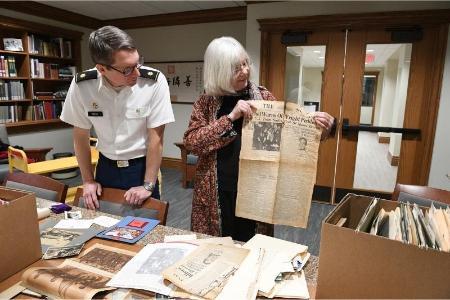 LEXINGTON, Va., Dec. 3, 2021—Lisa Tracy, a granddaughter of VMI's sixth superintendent Maj. Gen. Charles E. Kilbourne, VMI Class of 1894, had no idea what treasures hid in her attic. Not until Col. Diane Jacob, then head of VMI archives, asked her to check.
"Years ago, when I was working on my book, Colonel Jacob said to me, 'I don't suppose you have any Kilbourne papers left in the house anywhere,'" explained Tracy.
At the time, Tracy lived in the same house on Pendleton Place in Lexington her grandfather had built and moved into after his tenure at VMI. It was the only house the military family had ever really considered home. But Tracy thought there was nothing to be found after all the moves her grandparents had made. Then she and her sister, the late Jeanne Tracy Eichelberger, started to sort through the attic.
That's when the treasures started to emerge.
The sisters found hundreds of documents, ranging from Kilbourne's cadet photo, taken by Michael Miley in 1894, to news clippings of his meeting with President John F. Kennedy in the spring of 1963, just six months before both men's deaths in November of that year.
Kilbourne had a distinguished military career before returning to VMI in 1937. He was the first person in American history to hold the nation's three highest military awards: the Medal of Honor, the Distinguished Service Cross, and the Distinguished Service Medal. Kilbourne received the Medal of Honor for "distinguished gallantry at Paco Bridge, Philippine Islands, February 5, 1899," his citation reads. "Within a range of 250 yards of the enemy and in the face of a rapid fire climbed a telegraph pole at the east end of the bridge, and in full view of the enemy, coolly and carefully repaired a broken telegraph wire, thereby reestablishing telegraphic communication to the front."
He served multiple tours of duty in the Philippines and was instrumental in the development of the military installations on Corregidor Island, including the Malinta Tunnel, which was later used during World War II by Gen. Douglas MacArthur's troops and the Philippine government as they resisted the Japanese invasion.
Kilbourne became superintendent of VMI on Oct. 1, 1937. He oversaw the centennial Founders Day celebration in 1939, and guided the Institute through the challenging years of World War II. He retired on June 20, 1946, and moved with his wife, Bess Egbert Kilbourne, to the family home on Pendleton Place.
This is where items like his Jackson Hope medal, awarded to him as a cadet, were stored. Now the medal—he was awarded the second, the first was awarded to former superintendent Brig. Gen. William H. Cocke, VMI Class of 1894 that year—will go to the VMI Museum.
It took Tracy five years to sort through the papers and photographs they found in the attic.
"We started this in 2016, but it wasn't until the very end of this year that I found a number of personal family letters that really did reconnect me with Charles Evans [Kilbourne] and Bess," said Tracy, who often lovingly refers to her grandfather as "Charlie." There were letters between the husband and wife, and letters between her mother and grandparents. "It was really wonderful," she said.
With the help of local artist Merryn Williams scanning what they found, Tracy was finally ready to bring the documents to VMI Archives and fulfill the now-retired Jacob's wish.
"The opportunity to receive historic papers belonging to a notable VMI alumnus, particularly one who served as superintendent, is remarkable," said Maj. Jeff Kozak, head of VMI Archives. "General Kilbourne's papers will provide greater insight into his successful career in the U.S. Army, his leadership at VMI during the World War II era, and his lifelong connection to VMI."
Tracy brought many important items with her. Kilbourne's promotion papers, military documents, and photos of him receiving the first New Market Medal ever awarded were all among the haul. But even the seemingly less significant notes and scribbles are of value to VMI Archives. Kilbourne wrote limericks, letters to artists, and a recipe for spiked punch, labeled as "good but not weak," all indicators of culture and trends at the time.
"Lisa's personal connection to her grandfather's papers and her knowledge of her family's history is a great asset," said Kozak.
"Having it in context already, and having someone who can tell us the context, is so much easier than what we're usually dealing with," added Mary Laura Kludy, VMI archives and records management specialist.
Tracy is comforted to know these treasures will now be stored in acid-free archival folders and boxes, instead of sitting in an attic, vulnerable to time. And there is no better place for them than at VMI.
"His first venture into the military was at VMI," said Tracy. "And his last assignment was at VMI. So, in a way, by bringing these papers to the archives, I feel as if he has really come home."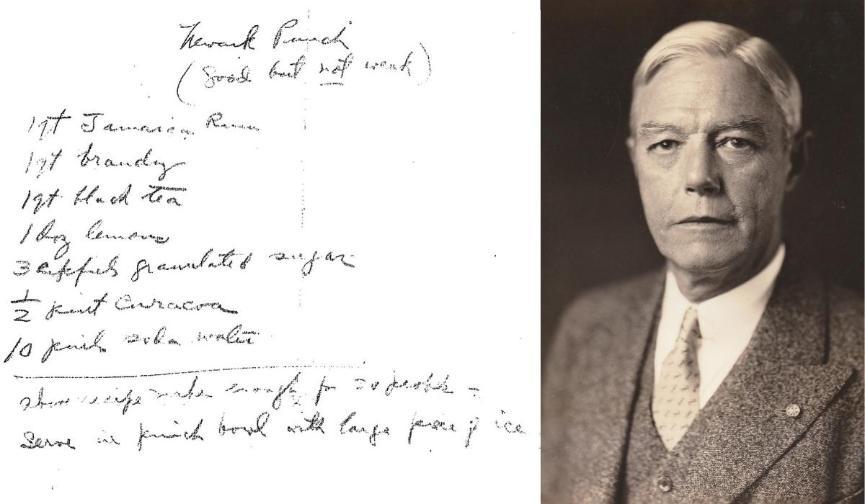 Left: The recipe for artillery punch was one of the many items donated to the VMI Archives by Lisa Tracy.—Photo courtesy of Lisa Tracy. Right: Maj. Gen. Charles E. Kilbourne, VMI Class of 1894.
Kelly Nye
Communications & Marketing
VIRGINIA MILITARY INSTITUTE