"SURFers" Share Research Projects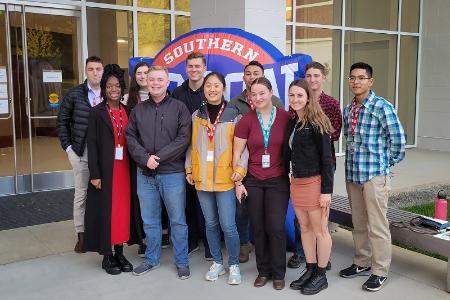 The SoCon Undergraduate Research Forum (SURF) is an annual research conference designed to bring together undergraduate students presenting their research projects via posters or oral presentations. Unlike many collegiate research conferences, SURF takes place in the fall with the aim to attract students who spent their summer months immersed in their research. This year, SURF was held on Oct. 29 and 30 at Wofford College in Spartanburg, South Carolina. Maj. Sarah Patterson and Maj. Blain Patterson from the Department of Applied Mathematics had the privilege of accompanying 11 cadets as they presented their research on a variety of topics, ranging from identifying glycans with neural networks to women in counterterrorism.
Representing academic departments across post, cadets who presented their research included John Barker '23 (Computer and Information Sciences), Abagail Basener '24 (Applied Mathematics), Alexander DiPrampero '22 (Civil Engineering), Gabriella Handford '24 (Biology), Ingrid Joseph '22 (Psychology), Kevin Linko '23 (Physics), Joseph Malazo '22 (International Studies), Rhett Rezendes '22 (History), Alexandra Sassaman '22 (International Studies), Bihn Tran '23 (Electrical Engineering), and Tianxin Zhou '22 (Applied Mathematics).
These "SURFers" did an outstanding job of representing VMI, showing the level of academic excellence that can be achieved with a VMI education. "I really enjoyed the conference and would love to have more opportunities like this. The chance to practice presenting my research was incredibly useful to prepare for potential future conferences" said Handford.

In addition to presenting their own research, these cadets also were afforded the opportunity to hear about the research being done by other undergraduates. Joseph shared this enthusiasm claiming, "It was wonderful to see other students' research."
They were able to ask questions of genuine curiosity, both formally during presentations and informally over a cup of coffee. Malazo said, "I enjoyed the 'less formal' setting for oral presentations and the ability to engage with other researchers."
This type of collaborative experience is an essential part of the VMI experience. Sassaman agreed, saying, "My experience at SURF is a highlight of my cadetship."
Overall, attending SURF was a worthwhile and engaging experience for this group of VMI cadets.
Maj. Blain Patterson, Ph.D. & Maj. Sarah Patterson, Ph.D.
Department of Applied Mathematics
VIRGINIA MILITARY INSTITUTE