More than 50 Inducted into ODK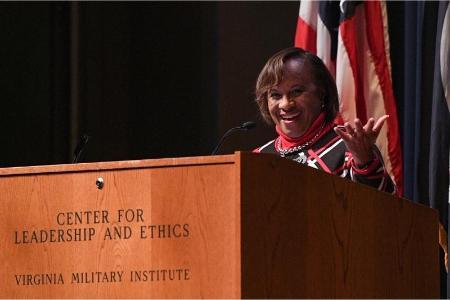 LEXINGTON, Va., November 19, 2021—More than 50 new members of Omicron Delta Kappa (ODK), the National Leadership Honor Society, were initiated on the evening of Nov. 9 at a ceremony held in Marshall Hall.
ODK was founded in 1914 at Washington & Lee University. Originally established as the Marshall Table in 1999, the VMI Circle was granted a charter in 2003. Selection is based on leadership, as well as accomplishment within the Corps and community service.
At a dessert reception catered by Parkhurst Dining, Chris Hulburt '22, president of the VMI ODK circle, welcomed all inductees and existing members of the organization. Next to speak was the General Binford H. Peay III, '62 Leader-in-Residence for the 2021-22 academic year, Lt. Gen. Gwen Bingham, an honorary inductee this year. Bingham emphasized how amazing it is to be a part of something like ODK where individuals can continue to grow as leaders.
The inductees took the oath to be a loyal servant to the community and uphold leadership responsibilities instilled in the bylaws of ODK. In addition to Bingham, this year's group of inductees included Col. Wade Bell, professor of biology; Jonathan Hadra '04, head baseball coach; Col. Dave Hall, director of international programs; Lt. Col. Ramoni Lasisi, associate professor of computer and information sciences; and Col. James "Jim" Squire, professor of electrical and computer engineering. Also, 16 1st Class cadets, 20 2nd Class cadets, and 13 3rd Class cadets participated in the oath.
As each inductee went to the stage to receive a pin and certificate, they signed the VMI Circle's book that contains all members that have been inducted since 2003. The night closed with a brief moment of reflection, reminding each member to be open to the world and its opportunities it brings.

College sophomores being eligible for the society is new this year. Hulburt said in an interview in early October, "We're kind of viewing that as a chance to bring longevity to the organization."
Hulburt and others want to also get alumni more involved to allow cadets to hear how the competency of leadership is executed post-graduation. He said, "We get the inside scoop on what it's like to be a leader here, but how do you apply it in the real world once you graduate?"
ODK activities took a halt in the height of the coronavirus pandemic, but Hulburt and others are ready to bring back the community service aspect of the program. "We're kind of at a pivotal moment. Because of the COVID restrictions last year, we weren't able to do much. We're trying to bring it back.
Maj. Michelle Ellwood and Madeleine Berry '22
VMI Photos by H. Lockwood McLaughlin
Communications & Marketing
VIRGINIA MILITARY INSTITUTE