The Bonds of Cadetship Formed Early Lead to a Decision to Stay at VMI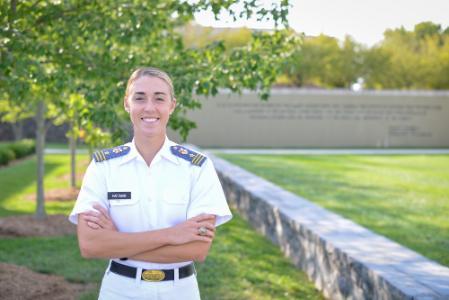 LEXINGTON, Va., Nov. 21, 2021—"Everyone asks the question 'Why did you choose VMI?' I didn't. I honestly think VMI chose me."
Emily Hattman '22 is a computer science major and mathematics minor from southern New Jersey. After graduation, she plans on commissioning into the Army and hopes to work in cyber operations.
When Hattman first arrived at VMI, she wasn't planning on staying long. She had received an Army ROTC scholarship, and at the encouragement of her father, she matriculated at VMI with the intention of transferring out after a year. She didn't know much about the Institute, and her main interest was to run on the track and cross country teams.
"I didn't know anything about the Rat Line," Hattman stated. "No, nothing."
When she arrived in the fall for Matriculation, it was a "big shock." Quickly, though, she met a great group of friends, and these relationships encouraged her to stay at VMI.
"I was like, 'I'm already through half the Rat Line," Hattman said. "I like my major, love the professors, love the friends I've made, and Army ROTC is one of the best ROTC departments. Why not stay?'"
Hattman did stay, and she's found success in Army ROTC, Ranger Challenge, and in her academics.
"The Army kind of echoes that brotherhood that VMI has with the shared suffering - you know, spending three nights in the woods in the pouring rain," Hattman commented. "I want to be there to support the people that are sacrificing their lives for the country."
This past summer, Hattman completed an internship with the NSA, an especially competitive opportunity that 1st Sgt. David Cartwright, a mentor of hers in the Army ROTC department, helped her secure. In her internship, she worked on a data standardization project.
"It was an amazing experience," Hattman stated. "Being in the office and understanding the operations of cyber, it opened my eyes to the real world and how the Army and Marine Corps operate."
As a computer science major, Hattman is thankful for the support and mentorship she has received from her professors, especially Dr. Youna Jung, associate professor of computer and information sciences. Recently, research Hattman completed with Jung and Tanner Mallari '22 was published by the Association for Computing Machinery (ACM).
After commissioning, Hattman has ambitions to go to Ranger School and work in cyber operations.
"My mom's gonna hate me for saying this, but I want to be deployed out there and help secure the networks," Hattman said. "I just want to do something that's going to be impactful."
Eric Moore
Communications & Marketing
VIRGINIA MILITARY INSTITUTE