Motorcycle Group Makes Memorial Day Run - Honors Battlefield Site Director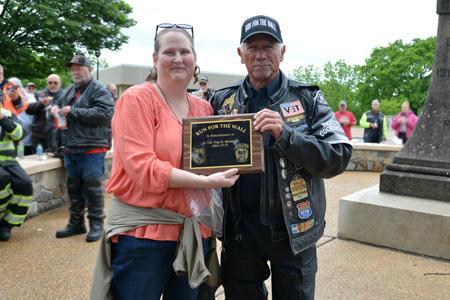 LEXINGTON, Va., May 31, 2022—Run For The Wall, an annual motorcycle ride from California to Washington D.C., in support of all veterans, is the largest and longest organized cross-country motorcycle run in the world. Participants come from all over the country and may ride for as many days and miles as they choose. The mission of the run is to promote healing among all veterans and their families and friends, to call for an accounting of all prisoners of war and those missing in action (POW/MIA), to honor the memory of those killed in action (KIA) from all wars, and to support military personnel all over the world.
Nearly 300 members of the group made a stop at the Virginia Museum of the Civil War in New Market on Friday, May 27, before completing their journey to Washington D.C. While at the museum, Tom Miller, spokesman for the group, presented a plaque to Samantha Marshall, widow of Lt. Col. Troy Marshall, who passed away in a tragic accident last summer. Marshall served as site director of the New Market Battlefield State Park for many years, was a Coast Guard veteran, and a friend and supporter of the motorcycle group. "A lot of people look at us and they see the leather and the tattoos and the patches and the loud motorcycles and they wonder what we're all about," said Miller, "Lt. Col. Marshall got us right away. He knew exactly what we were doing, what we were about. We didn't have a long association with him, but the association we did have with him was instantaneous. He understood our mission."
Samantha Marshall was visibly touched with the presentation of the plaque. "It means the world to me. Troy loved these guys. He loved this event every year. He was a veteran and he wanted to support them in any way he could, and in turn, they supported the battlefield. Mr. Miller is carrying a photograph of Troy and is riding in his honor. That means so much to me," said Marshall.
Run For The Wall is a 501(c)3 non-profit organization. Information about the organization may be found by going to the website, www.rftw.us.
Marianne Hause
Communications & Marketing
VIRGINIA MILITARY INSTITUTE