Teens Solve Fictional Murder Mystery at VMI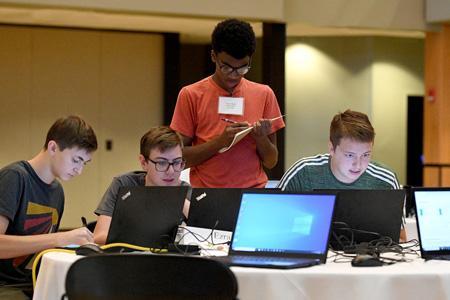 LEXINGTON, Va., June 13, 2022—A group of 17 local high school students solved a fictional murder mystery using the skills they learned during the second annual CyberSmart Workshop held June 6-10 by the Cyber Defense Laboratory at Virginia Military Institute.
Dr. Sherif Abdelhamid, assistant professor of computer and information sciences at VMI and a fellow with Commonwealth Cyber Initiative, led the murder mystery learning activity. "A murder has been committed by a serial killer referred to as 'Encryptor,' who always leaves encrypted messages for the police department," announced Abdelhamid. The students' job was to discover clues to find the identity of the murderer, the weapon used, and the room in which the murder took place. The clues were encoded in eight different ciphers.
The teens, broken up in four teams, used their "little grey cells," as well as their laptops, to crack the ciphers using the cryptography (a method of protecting information and communications through the use of codes) and steganography (the practice of concealing messages or information within other non-secret text or data) skills taught during the week in the workshop. The answers to several of the ciphers led the young detectives to certain instructors who were designated as "agents" for the activity, who provided paper clues that led the sleuths to the final clue hidden in the room.
Abdelhamid created the activity in order to provide a fun and practical opportunity for the students to incorporate their decoding skills. "Traditionally, this information is taught at the college level in math classes, but I think it is important that cryptography and steganography is taught to younger students. The earlier students learn how to decipher, the better. Next week, I will teach it to middle schoolers," said Abdelhamid.
Goldie Richardson, a senior at Parry McCluer High School in Buena Vista, and high school intern for the CyberSmart Workshop, enjoyed the week at VMI. "It's been a lot of fun. We learned about things I never thought about before, such as 'threat-casting,' which is forecasting what will be threats in the future. We discussed ways to prepare for future threats and how to prevent them from occurring," said Richardson.
The workshop was offered at no cost to the students and was sponsored by a grant from the Department of Defense. In addition to learning cryptography and steganography, students acquired knowledge of cybersecurity, open-source intelligence, python, cell phone and photograph vulnerabilities, and more. This year's workshop included gamified learning using a platform called Project Ares as well as hands-on interactive activities with each topic. Students leave the program with a certificate of completion and opportunities to be involved with future VMI Cyber Defense Laboratory events and projects. The program provided laptops, light snacks, and lunch for all students.
The second week of CyberSmart Workshop is designed for middle school students and will be held June 13-17.
Marianne Hause
VMI Photos by Kelly Nye
Communications & Marketing
VIRGINIA MILITARY INSTITUTE