Munro '21 Named Gates Cambridge Scholar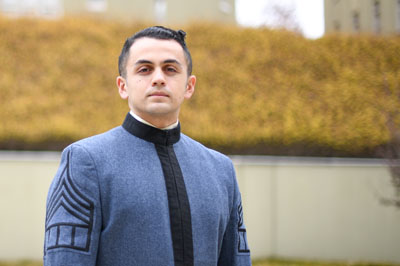 LEXINGTON, Va., Feb. 10, 2022—"The first thing I did was call my parents."
Eric Munro '21 is one of only 23 U.S. candidates selected as a Gates Cambridge Scholar 2022. Established by the Bill and Melinda Gates Foundation in 2000, the scholarship covers all costs for graduate study at the University of Cambridge. Munro will pursue a Ph.D. in engineering and research the development of next generation miniaturized spectrometers using novel nano materials.

An electrical and computer engineering major at VMI, Institute Honors cadet, and distinguished Air Force graduate, Munro was shocked and elated to receive the news.

"The first thing I did was call my parents to let them know that I received the scholarship," Munro said. "After that, I texted Don Kilcullen '74 to let him know. It was Don that made me aware of the scholarship in the first place, and it was Don that coached me through the process."

A cyberspace officer in the Air Force Reserves, Munro has been working at Kyrus Technology, a computer security company headed by Dan Hall '97, while pursuing the scholarship. He is currently conducting preparatory research for his thesis "so that when I arrive at Cambridge, I can hit the ground running."

Munro decided to attend VMI because "it promised an immensely challenging and demanding undergraduate experience that would instill discipline, leadership ability, academic aptitude, and above all else, honor and integrity." He continued, "I am happy to say that I got what I came for!"

While at VMI, Munro found success in the classroom, with extracurricular activities, and in AFROTC. As a 1st Class cadet, he was recognized with several awards, including the First Jackson-Hope Medal for highest attainment in scholarship and the Commander Harry Millard Mason Academic Proficiency Award. Munro also led a team of cadets to compete in an international robotics competition, earning praise from Col. James "Jim" Squire, professor of computer and electrical engineering.

"Eric's talents lie in being unusually gifted in both designing electrical engineering devices and being able to manage people," Squire said. "Eric guided the team of cadets working through a gauntlet of increasingly difficult competition, … [and] his engineering skills and team management abilities impressed the judges."

Munro is grateful for the mentorship and community he found at VMI for encouraging his academic success, especially from his brother rats.

"My academic achievements as a cadet were made possible because of the upperclassmen and brother rats that took the time to mentor, tutor, and collaborate with me," Munro said. "VMI taught me that academic success is rarely attained by being a solo act – it is more easily found by working with your peers, learning from your seniors, and helping your juniors."

Munro's future goals include completing a successful thesis that contributes toward the miniaturization of spectrometers and finding ways to contribute, teach, and mentor in his local communities.

Munro is the second VMI alumnus to receive the Gates Cambridge Scholarship. Jacob Cox '10 was the first. At VMI, Cox majored in Chemistry and graduated with Institute Honors. After completing his master of philosophy degree at Cambridge, he returned to the United States and earned his doctor of medicine degree at the Johns Hopkins University. Currently, he is an ocular surgery resident at Harvard University.
Eric Moore
Communications & Marketing
VIRGINIA MILITARY INSTITUTE