Topping off the Aquatic Center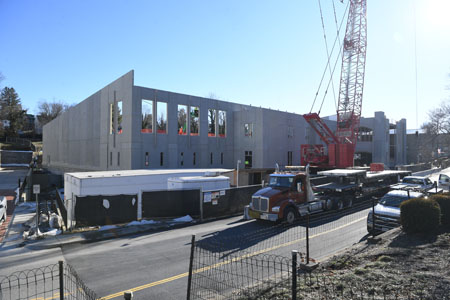 LEXINGTON, Va., Feb. 11, 2022—The Aquatic Center, also known as the Corps Physical Training Facility Phase III, is starting to look closer to the finished product, at least from the outside. Passers-by on North Main Street have seen massive walls go up with the framing for large windows. The work has continued steadily, with brief halts for holidays and snowstorms.
The road in front of the facility was closed to traffic for several days in February as a 375-ton crane was brought in, and a lane was created to place and lift the roof beams. The glulam beams are laminated wood, with each being 90-inches deep and 18-inches wide. Col. Keith Jarvis '82, director of construction, explains that "in this kind of [aquatic] environment, all the chemicals used can be detrimental to a typical steel beam. The glulam works fantastic for this."
Once the roof is placed, which should wrap up in March, the focus will be the inside. The construction of the actual pool will begin and the initial water fill will be done in August. During the summer and fall, focus will be on windows, interior construction and finishes, as well as completion of the heating, ventilation, and cooling system.
The 50-meter pool will hold 800,000 gallons of water. It can be divided into three sections, meaning diving, water polo, and competitive swimming could be happening all at the same time.
"This will be for the entire Corps of Cadets," says Jarvis. NCAA teams will use it for practice and competition, but ROTC and the Department of Physical Education will both also use it for training. Cadet clubs, like the scuba club, will also find it valuable.
Just next door, the historic American Legion building, also known as the Knights of Pythias building, is under continued renovation and will be connected to the Aquatic Center. The main level will have coaches' offices and a conference room. The upper level will be classrooms.
The $44 million project, which has been in the planning stages for about a decade, is a little more than halfway done, and the team guiding the project is working toward a November 2022 completion. "It's a joy to see a project come together and get used. Then we move on to the next project. There's always something to look forward to," said Jarvis.
Maj. Michelle Ellwood
VMI Photos by H. Lockwood McLaughlin
Communications & Marketing
VIRGINIA MILITARY INSTITUTE