New Library Director Emphasizes Innovation, Collaboration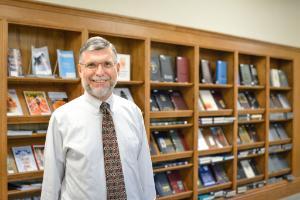 LEXINGTON, Va., Sept. 30, 2021—On Sept. 16, Col. Pongrácz Sennyey began his new job as director of Preston Library, filling a position that had been vacant throughout the entire time of the coronavirus pandemic.
Sennyey has extensive experience as an academic librarian, having worked at Saint Edward's University, Furman University, and the University of Vermont, among others. Most recently, he was dean for discovery, access, and technology at James Madison University. He has also taught history courses at a number of schools.
"When I saw the job ad for VMI, and it emphasized innovation and collaboration, it piqued my attention," Sennyey explained. "I know for a fact that innovation cannot happen without collaboration." He also mentioned the attractive nature of Preston Library, which he noted was "beautifully renovated" in 2020.
As he settles into his new role, Sennyey is looking forward to getting to know cadets, faculty, and staff. "One goal I have to is to reach out to the faculty and the Corps of Cadets to understand their information needs so the library can meet those," he stated.
A native of Brazil, born to Hungarian parents, Sennyey is fluent in Hungarian, Portuguese, and Spanish, in addition to English. He earned a bachelor's degree in history from Middle Tennessee State University and a master of arts in medieval studies from Western Michigan University. Sennyey then did doctoral work in history at the University of Illinois at Urbana-Champaign before earning a master's in library and information science there.
Mary Price
Communications & Marketing
VIRGINIA MILITARY INSTITUTE