One of the Last Surviving Tuskegee Airmen to Speak at VMI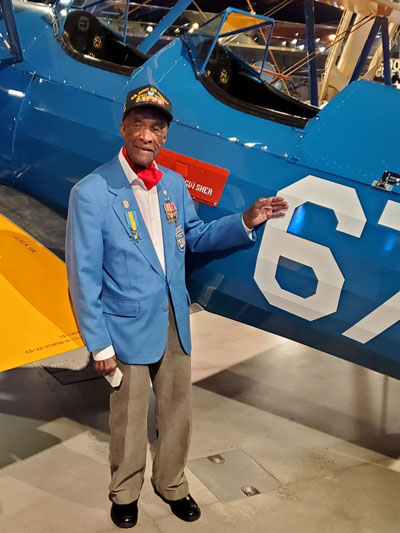 LEXINGTON, Va., Feb. 14, 2022—Enoch "Woody" Woodhouse II, one of the Tuskegee Airmen, a group of predominately African-American fighter pilots who fought in World War II and paved the way for the integration of the armed forces in 1948, will speak at Virginia Military Institute on Thursday, Feb. 17 at 8 p.m. in Gillis Theater in Marshall Hall. This event is free and open to the public.

Now 95, Woodhouse was 17 when he graduated from Boston English High School and enlisted in the U.S. Army at his mother's urging after the Japanese attacked Pearl Harbor on Dec. 7, 1941. He went on to serve in the 332nd Fighter Group as a paymaster, also known as a finance officer.

After retiring from the U.S. Army Air Force, Woodhouse attended and graduated from Yale University. He then studied law at Yale Law School and at Boston University, receiving his J.D. from the latter. He worked as a trial lawyer in his native city of Boston for more than 40 years, and in the State Department and for the City of Boston as well. He met his wife Stella in 1971 and they have a son, Enoch O'Dell Woodhouse III, an esteemed Harvard graduate.

Woodhouse continues to speak to the youth of today, sharing words of hope, unity and optimism.
This event is sponsored by the Office of Diversity, Equity, & Inclusion.
Maj. Michelle Ellwood
Communications & Marketing
VIRGINIA MILITARY INSTITUTE