Tuskegee Airman Brings 'Simple' Message to VMI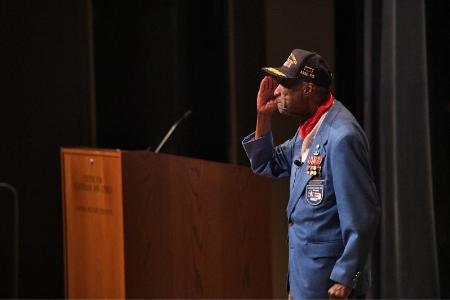 LEXINGTON, Va., Feb. 18, 2022—"This may sound simple, but just do the right thing."
These are the words of Lt. Col. Enoch "Woody" Woodhouse II in response to a cadet who asked the most important lesson he should bring back to barracks. Woodhouse came to Virginia Military Institute for the second time in a year and not only spoke to a full Gillis Theater, but also spent time with cadets, visiting barracks, having lunch in Crozet Hall, and spending a few hours in the VMI Museum. During his previous visit in May 2021, he attended the Memorial and Change of Command Parades. Woodhouse now spends much of his time speaking to the youth of today, sharing words of hope, unity, and optimism. His evening talk at VMI, sponsored by the Office of Diversity, Equity, and Inclusion, was open to the public, and people of all ages took advantage of the opportunity to hear him.
Woodhouse is one of the Tuskegee Airmen, a group of African-American fighter pilots and support staff who fought in World War II and paved the way for the integration of the armed forces in 1948. Now 95, Woodhouse was 17 when he graduated from Boston English High School, the oldest public high school in America, and enlisted in the U.S. Army.
At the beginning of his talk, he acknowledged that each person in the audience has a day or a period that stands out in their lives. For many cadets right now, that day is graduation. For him, Dec. 7, 1941 was the "greatest moment and challenge" of his life. His family was on the way to church when he and his family learned of the surprise attacks at Pearl Harbor. At that moment, his mother told Woodhouse and his brother they needed to serve their country.
"Can you imagine a Black woman telling all that she had in the world, two boys that she raised … 'Boys, America is at war. I want you to serve your country.' That's what we did."


Left: Alexandra Sassaman '22 shakes the hand of Lt. Col. Enoch "Woody" Woodhouse II after he signed her Tuskegee Airman commemorative quarter.—VMI Photo by H. Lockwood McLaughlin. Right: Sgt. Maj. William T. Sowers, Col. Gary Bissell '89, and Lt. Col. John Young take Lt. Col. Enoch "Woody" Woodhouse II through barracks during his visit on Feb. 18.—VMI Photo by Kelly Nye.
While his visits to various schools allow him to share his experiences in the Army and beyond, Woodhouse also brings a theme to each of his talks. His theme for VMI was "the tyranny of words." There are moments in life when the word "black" or the word "white" can cause a reaction. "We have to discuss it. We have to be honest. We have to be Americans. We're all immigrants." He goes on to say, "as Americans, we have to see just who we are. We have to find out what direction we're going in. Without that, America will not be what it should be and what it wants to be."
Woodhouse emphasized the value of education multiple times. Growing up in Boston, his father took him to each Harvard commencement speech as a child to build his interest in higher education, and he told cadets that the library should be their second home. As he scanned VMI yearbooks during his visit to the museum, he said one common trait stood out through the pages of each class year: cadets were honest, devoted, patriotic, and hard workers.
While he talked about expanding knowledge through books and higher education, he reminded listeners that so much can be distilled into the simple concept of doing the right thing and not cutting corners. "You have an honor code. That's very simple. Can you imagine if you followed the honor code how easy your life would be?"
Woodhouse closed out his talk in the way he often does as he lectures across the country: "You can talk about me all you please, but I'll talk about you on my knees."
Over the years, Woodhouse would go on to serve in the 332nd Fighter Group as a paymaster, also known as a finance officer. After retiring from the U.S. Army Air Force, Woodhouse attended and graduated from Yale University. He then studied law at Yale Law School and at Boston University, receiving his J.D. from the latter. He worked as a trial lawyer in his native city of Boston for more than 40 years, and in the State Department and for the City of Boston as well. He met his wife Stella in 1971 and they have a son, Enoch O'Dell Woodhouse III, an esteemed Harvard graduate.
Many cadets realized the importance and value of having Woodhouse visit post again. For some, it was a moment that will stand out as someone they read about in a history textbook suddenly standing in front of them.
"It's truly an honor. I was in shock and awe," said Dennison Kelly '23. "To be able to meet a man who is literally the epitome of what a great American is, is such a great opportunity."
Mariah Woods '22, a bi-racial woman who came to VMI from Southern California, understands the barriers that Woodhouse and the other Tuskegee Airmen knocked down. As an applied mathematics major, a field dominated by men, she said, "I'm a double minority in my field, and he set the stage so people understand that I am good enough, I am important enough, I am as qualified as the next person."


Left: Maj. Gen. Cedric T. Wins '85, superintendent, welcomes Lt. Col. Enoch "Woody" Woodhouse II to VMI on Feb. 17.—VMI Photo by Kelly Nye. Right: Lt. Col. Enoch "Woody" Woodhouse II proudly accepts a gift from VMI as a full crowd in Gillis Theater gives him a standing ovation.—VMI Photo by H. Lockwood McLaughlin.
Maj. Michelle Ellwood
Communications & Marketing
VIRGINIA MILITARY INSTITUTE