Private Support Makes Peay Scholarships Possible: "The biggest thing that has ever happened"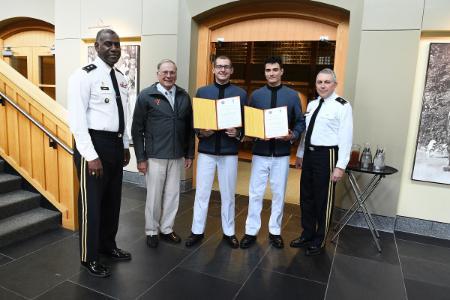 LEXINGTON, Va., Nov. 5, 2021—For the first time, three cadets are benefitting from alumni support as Peay Merit Scholars this academic year.
Named for the Institute's 14th superintendent, Gen. J. H. Binford Peay III '62, the Peay Merit Scholarships are designed to reward excellence across all three domains of the VMI experience—academics, athletics, and the military—by providing selected cadets with a full-ride scholarship covering tuition, fees, room, and board. The scholarships can be renewed for up to four years.
"The long-term goal of the Peay Merit Scholars program is to raise enough funds to provide five scholarships in each class or 20 in the Corps," said Brig. Gen. Robert "Bob" Moreschi, Ph.D., dean of the faculty and deputy superintendent for academics. "Strategically, we want to provide our admissions and academic teams the ability to compete for talented, well-rounded students who may also be interested in attending federal service academies or top universities."
The Peay Merit Scholarships began with a small group of passionate alumni led by the late Donald "Donnie" Wilkinson '61, a former member of both the VMI Board of Visitors and the VMI Foundation Board of Trustees.
As the founding chairman of the General J.H. Binford Peay III 1962 Endowment for Academic Excellence, Wilkinson envisioned a program that would strengthen VMI's academics while honoring Peay, who excelled across all three areas as a cadet before going on to a 35-year career in the U.S. Army and serving for 17 years as VMI's superintendent. The Peay Endowment Cabinet, which oversees the fund's administration, is now headed by retired Air Force Chief of Staff Gen. John P. Jumper '66.
"We share Donnie Wilkinson's vision of a powerful academic program that not only attracts quality candidates but provides the tools to actively compete for the highest quality talent able to thrive in the VMI system," said Jumper. "Providing for a robust student base parallels other provisions of the Peay Endowment to recruit and reward top faculty, and to advance opportunities for VMI cadets and graduates to pursue careers in academic fields."
The inaugural Peay Scholars consist of two 2nd Class cadets, both majoring in electrical and computer engineering (ECE), and one 4th Class cadet, an international studies major. Cadets of any major are eligible for the Peay Endowment Scholarships.
Dominick J. Lalena '23 from Stafford, Virginia, plans to commission into the Army and would like to serve with the Cyber Corps. He's a member of the S2 staff, which supports cadets needing help with academics, a position he takes seriously since he was unsure about his own major—one with very high attrition—when he was a rat. Lalena has worked hard and wants to help other cadets be successful academically. With that goal in mind, he's developed a mentorship program for ECE rats with activities such as study sessions, tutor sessions, book reading sessions, etc.
Lalena is "absolutely honored" to be one of VMI's first Peay Scholars and is grateful for the scholarship.
"For me, it's the biggest thing that's ever happened in my entire life besides, you know, coming to VMI in the first place," he stated. "And so I also subsequently forwarded that email [with the scholarship news] to all my teachers, thanking all of them for helping me get to this point, and that just kind of goes back to I'm just incredibly thankful for this. I still have the email pinned in my inbox. I look at it every day as a reminder of this is where hard work gets you. And to continue to work hard. Yeah, that was awesome."
It's been a long journey for someone who'd had some struggles in high school and didn't consider himself a strong student when he matriculated. Now, he wears academic stars and has a high cumulative GPA.
He's always been sure about VMI, though. It was the only school he applied to.
"VMI was really the only place I wanted to go to," he commented. "I knew that there was no other place that would really fit me and my desires. I had a very specific set of goals and a vision of who I wanted to be as an adult. And I knew that VMI would be the only place I could achieve that fully in the extent that I wanted to."
Lalena views alumni as "pillars of excellence" and is excited to join their ranks. "These are people who are valuable members of society, who contribute, who put service above self, who are selfless individuals who are always caring for others, and [are] always working hard," he stated. "You know, you can get that from another place, but no place will prepare you for that like VMI will."
Binh Q. Tran '23 from Ashburn, Virginia, grew up in Vietnam and moved to the U.S. in 2015. He's a member of the Cadet Investment Club and jiu-jitsu club and part of the S2 staff. Tran is also an assistant investigator for the Cadet Equity Association.
Tran came to VMI because he wanted to commission in the Air Force and because of VMI's small class size, alumni network, and the physical, mental, and academic challenges VMI offers. He was "extremely happy" when he learned he would receive a Peay scholarship and immediately called his parents.
"I was really happy and really glad that I got the scholarship," said Tran, who is the first person in his family to go to college in the United States. "I'm extremely thankful to all the alumni who are making this happen and I feel like this is one of the reasons why VMI is one of the best schools in the U.S."
For Tran, giving back is imperative, and thus he's happy to be a member of the S2 staff. As a recent English language learner, Tran knows the importance of receiving assistance.
"I'm really glad that I'm able to help [cadets] out and make sure they can improve their performance in terms of academics," he noted.
Patrick J. Simmons '25 from Quantico, Virginia, is an international studies major. A member of Naval ROTC, he plans to commission into the Marine Corps. He came to VMI because of the challenge and because he felt like the Institute was one of the best places to learn about becoming a Marine. He considered the Naval Academy as well but saw a greater brotherhood and pride among VMI alumni. He is thankful for his scholarship and that people care enough about him and his goals and want to help him.
"I wouldn't have been able to come here if they didn't give me that money," Simmons stated. "I just feel very, very blessed."
As he begins his cadetship, Simmons strives to emulate the model of excellence set by generations of the Institute's alumni.
"I want to be a great person, as in the VMI way, like the three-legged stool, so academics, military training, and sportsmanship," he said. "And I think that's like the best way to be the most well-balanced person you could be because you've got to try hard in everything you do."
In addition to providing cadet scholarships, the Peay Endowment supports two other initiatives designed to increase academic excellence. The Peay Academic Excellence Chairs provide private funds to support some faculty positions, thus freeing state funds to be reallocated among all Institute faculty members.
Thanks partially to this approach, faculty salaries have risen by an average of 34% in the last five years, and on average, 16% of each faculty member's salary now comes from private funds. This rise in salaries is necessary to support the hiring and retention of top-notch faculty members.
In addition, the Peay Fellows program supports graduate studies for qualified alumni, with the expectation that they will come back and teach at the Institute afterward.
Mary Price
Associate Editor
VMI Alumni Agencies