Only Living Operation Iraqi Freedom Medal of Honor Recipient Brings Message to VMI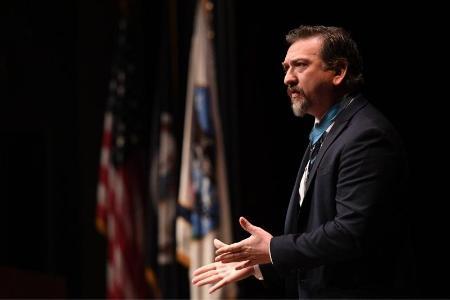 LEXINGTON, Va., Nov. 4, 2021—Retired Army Staff Sergeant David Bellavia brought inspirational words on the value of service above self on the afternoon of Tuesday, Nov. 2 in Gillis Theater in Marshall Hall at Virginia Military Institute. His talk, which was open to the public, concluded VMI's 12th Annual Leadership and Ethics Conference. Bellavia is VMI's 2021 H. B. Johnson Jr. '26 Distinguished Lecture Series speaker.
Bellavia, the first and only living Iraqi Freedom veteran to receive the Congressional Medal of Honor, brought humor in his remarks while hitting home on a few key points referring to peer pressure, defending one's tribe, and not being afraid of failure.
After recognizing those in the room who had or plan to serve in the various branches of the U.S. military, he thanked Maj. Gen. Cedric T. Wins '85, superintendent, for having him on post. Throughout the afternoon, he reminded the audience of the hard work, dedication, and discipline that Wins has displayed to earn the rank of a two-star general.
Bellavia talked about a pandemic in our country, but it was not the one people expected. "It's contagious. It's deadly... It's not COVID, it's stupid!"
He reminded the cadets in the room that VMI is selective and that they each possess greatness. "VMI doesn't just take anyone. You had to be something to be here... There is greatness inside of you. Your job in this world is to avoid stupid at all costs."
For anyone who goes on to serve in the military, Bellavia says it's OK to be afraid, to be wrong, and to fail. Indecision can be deadly. "You will never accomplish anything in life unless you make yourself awkward and uncomfortable every day."
Being dedicated to the team is critical, and things like religion, gender, sexual orientation, or political affiliation don't matter. He explained that all that matters is the answer to the question: "Are you going to stand by my side? Yes or no?"
Accountability, loyalty, and consistency are critical character traits required while serving in the military, but also in the civilian world. It is important to lead by example for what it means to be a good citizen and a good American. Bellavia was passionate in the way he talks about our country and the loyalty he has to each American, whether born here or not. He noted that we have obligations as Americans to protect and defend one another.
"Everyone's tribal. Everyone's divided. This [America] is the biggest tribe. We look different. We love different. We worship different. This is a tribe. You can't touch this tribe. You are part of my family. I'm a part of your legacy. We are one. And when we get into situations that are rough, we defend our family."
Being open and understanding, treating people with dignity and respect, and showing up are part of setting the standard. "We fight because we love... We have been fighting for love since 1776."
He wrapped up his talk by going back to his message about having greatness. "When the world hits you with negativity... nothing gets in the way of your greatness!"
Bellavia told the young generation in the room to avoid peer pressure and not to go out looking for validation. "Everyone's watching you. ...You want people to see your dinner, you want them to see your selfie, you want validation from the crowd? My officers don't get validation from the crowd. ...Officers stand in the front to command respect because you are the same man and woman that you are outside of formation inside the barracks room."
Bellavia, who enlisted in the U.S. Army in 1999, was awarded the Medal of Honor for heroic efforts on Nov. 10, 2004, during the Battle of Fallujah through dramatic efforts that saved the lives of his unit members. He served in three military campaigns: Kosovo 2003, Operation Iraqi Freedom I, and Operation Iraqi Freedom II.
In 2006 and 2008, Bellavia returned to Iraq as an embedded reporter covering heavy fighting. He wrote a book about those experiences in 2007 titled "House to House." His book is considered one of the best first-hand military accounts ever written. Copies of the book were sold during the Leadership Conference, and attendees had a chance to meet Bellavia and get their book signed. He later had an office call with Wins, and toured post with cadets, which included a visit to barracks with Col. Adrian T. Bogart '81, commandant.

- VMI -