Rank Announcements at VMI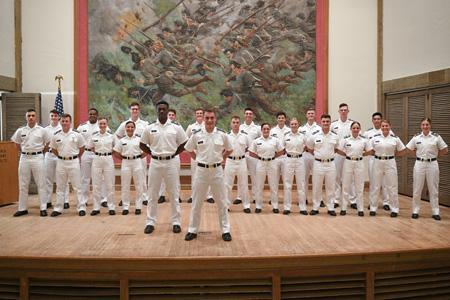 LEXINGTON, Va., April 19, 2022—Virginia Military Institute recently announced ranks for the 183rd Regiment for the 2022-23 academic year.
Blake Smith '23 was named first captain and regimental commander (RCO), the highest-ranking position a cadet can earn. This year, as a 2nd Class cadet, he served as regimental sergeant major. Last year, as a 3rd Class cadet, he served as Company E cadre corporal. He is from Richmond, Virginia where he attended Benedictine College Preparatory.
Smith applied for the role of regimental commander because, "I love and value VMI and want to give back to the school that has given me so much. My main goal within this position is to enable all cadets to have the opportunity to be successful at VMI in all aspects of cadet life." Smith went on to say he has been fortunate to have dealt with multiple groups and organizations within the Corps of Cadets, and he is motivated by his daily interaction with them. As RCO next year, he hopes to set an example, motivate his fellow cadets and give them the best opportunities to be successful at VMI.
Two influences that stirred Smith to attend VMI were his sister, who was born with severe physical and mental disabilities, and his faith in God. "My sister inspired me to serve in the military," said Smith. "It was her disabilities that gives me an understanding of my God-given abilities and inspires me to fight for those who cannot fight for themselves. The biggest influence in my life is my relationship with God. I owe all my success to Him. I work as hard as I can and leave the rest to Him."
After graduating, Smith will be commissioning in the U.S. Marine Corps.

Joseph Egbo '23 has been named regimental executive officer. He is from Williamsburg, Virginia where he attended Lafayette High School. This year, as a 2nd Class cadet, Egbo is operations sergeant for Company F, served as transportation chair for the Ring Figure committee, and plays on the club rugby team. As a 3rd Class cadet, he was a S4 corporal.
When asked what led him to apply for this role, Egbo answered, "I knew I wanted to be a cadet captain and have a say in some of the big decisions for the Corps and our class. I hope to continue the legacy of my dykes [mentors to new cadets] and lead VMI into the future." Egbo has found meaning in the challenges of the VMI experience. "There is no shortage of things to challenge yourself at VMI, and with the challenges, there is no shortage of room to grow," Egbo said. "Each year, one tackles a new set of challenges and new responsibilities. If you compare the person I am now with the rat [new cadet] version of myself, you would see a large amount of growth and maturity. I think that is true of everyone at VMI."
Egbo's father is the biggest influence in his life. "He came straight from Nigeria and joined the U.S. Army. He made his way up the ranks and is a great leader and an even better man. He always has a smile on his face but means business when the time comes. I hope to someday be half the man my father is," said Egbo. Like his father, Egbo plans on commissioning into the Army.
Herbert Brooks '23 has been named 1st Battalion commander. Brooks is from Halifax, Virginia, and a graduate of Halifax County High School. He has served as 1st Platoon sergeant this year as a 2nd Class cadet, and as a 3rd Class cadet, he was a cadre corporal for Company A. Brooks said that the main reason for applying for the role of 1st Battalion commander was to bring a different viewpoint. "Being an athlete, cadre, and an African-American at VMI, I can relate to a lot of people in the Corps of Cadets and represent 1st Battalion well. My hope for next year is to present a good example of discipline, appearance and determination among the Corps and for the rats coming in next year. I also want to build strong cohesion in 1st Battalion that will last long after I'm gone," stated Brooks.
Brooks named two men who have been a positive influence in his life: his father, William Brooks, who encouraged him to be mentally strong in the classroom and physically tough in sports; and a high school teacher, 1st Sgt. Gregory Scott, who kept him on the right path, taught him many life lessons and encouraged him to attend VMI.
Brooks plans on commissioning in the Army after graduation. "I want to branch into military intelligence or military police in the Army. My long-term goal is to work in federal law enforcement, preferably as a behavioral analyst for the FBI," he said.
Morgan Boyer '23, a cadet from Glen Allen, Virginia, where she attended Glen Allen High School, has been named 2nd Battalion commander. This year, as a 2nd Class cadet, she serves as operations sergeant for Company E, and stated that in that role, "I have been challenged in new ways and have learned more than I could have in any other position. It has taught me so much about VMI and how to handle difficult situations. It has brought out my drive and ambition, showed me what I am capable of, and reminded me of all the reasons I chose to come to VMI." She is also part of Omicron Delta Kappa and an EMT on post. When asked why she applied for the role of 2nd Battalion commander, she replied, "I want to be in a position that will push me out of my comfort zone. I want to motivate the Corps of Cadets and help shape the rats into cadets."
Boyer's dyke, Anah Bozentka '20, has been her greatest influence at VMI. "Anah's grit and drive always made her stand out and she always held herself to high standards, setting an example for me and everyone around her. I look up to her and aspire to have that same grit and confidence," said Boyer.
After graduation, Boyer plans on attending physician assistant school.
Richard Wagner '23 was named Company A commander. He is from Dakota Dunes, South Dakota, and a graduate of Dakota Dunes High School. "When I was a rat, I looked up highly to our company commander and saw him as a true man of character, who embodied everything that I wanted to achieve and become as a cadet. He left a long-standing impression on me which will stay with me for the rest of my cadetship, therefore, I am determined to leave that same impression on the company as the upcoming company commander," explained Wagner.
The person who has influenced Wagner the most at VMI is his dyke, Andrew Ladi '20. "He taught me everything that I needed to know to succeed at VMI. Through his mentorship and care, he built me into who I am today, and I would not be anywhere close to this stage in my life if it had not been for him and his positive example," said Wagner.
Wagner has served as an EMT as both a 3rd and 2nd Class cadet. He was a cadre corporal last year as a 3rd Class cadet and is currently an operations sergeant as a 2nd Class cadet. His career aspirations are to become an aviator or infantryman for the Washington State National Guard while simultaneously pursuing a career in international business.
Connor Holland '23, a graduate of Charles J. Colgan Sr. High School in Manassas, Virginia, has been named Company B commander. Ever since he was a rat, Holland has wanted to be his company commander. "I have worked very hard these past three years, and it has paid off. My main goal for next year is to establish camaraderie between the classes within Company B," said Holland. Holland stated that his current position as first sergeant has taught him a great deal. "It has been very stressful at times and always tested my time management skills. One of my philosophies is, 'get comfortable with being uncomfortable,' which means that by placing yourself in uncomfortable situations, you gain valuable experience and confidence that helps you develop as a leader."
The most influential figure in Holland's life is his father. "He is a great role model that I constantly look to for guidance. I have been in situations here at VMI where I have no idea what I should do, so I call him for advice. He always sets time aside to talk with me. I am so grateful to have such a caring and insightful support system," said Holland.
Holland will commission into the Air Force where he hopes to be a cyber officer.
Aidan Blair '23, from Belle Haven, Virginia, attended Broadwater Academy. He has been named Company C commander. He is a member of the American Society of Civil Engineers and a member of the Tau Beta Pi engineering honors society. He has served as cadre for Company C for three years, was company clerk as a 3rd Class cadet and first sergeant as a 2nd Class cadet. Blair did not know what to expect when he first came to VMI. When his company commander said, "Charlie Company rats, fall in!" he quickly realized that he was entering something amazing.
One of the best experiences that he has had at VMI happened at Breakout (when rats become cadets). "As we were coming up the hill to do our crawl across the parade field, I noticed that one of my brother rats was completely exhausted and having a hard time moving. I grabbed him by the arm and helped him up the hill. I did not notice that one of my cadre sergeants was on his other side helping him too. We were three people, from different backgrounds but with one common goal. It was then that I knew that Company C was not just a group of people, but a family," stated Blair.
A large influence in Blair's life is his father, Capt. Kenneth Blair, who serves in the North Carolina Army National Guard. "I have always looked up to my father, who never set expectations nor pressured me into joining the military. He has shown me that you are able to do whatever you set your mind to, and nothing is impossible. You can overcome anything with hard work and determination. You cannot let one obstacle define who you are and always remember that there is someone looking up to you, so do not let them down."
Blair is commissioning into the U.S. Army, Virginia National Guard. He aspires to have his own engineering firm on the Eastern Shore.
Janine Colantonio '23 was named Company D commander. Hailing from Berryville, Virginia, Colantonio graduated from Loudoun Valley High School. She applied for the role because she hopes to inspire others and looks forward to mentoring the upcoming new cadets and forming lasting relationships with members of Company D. When asked of a person who has been influential in her life, Colantonio stated, "My grandpa was a graduate of VMI class of '63. Growing up, he told my siblings and me about the opportunities VMI offered, the friendships he made and the leadership skills he developed while he was a cadet."
Colantonio will commission into the U.S. Army, either as an infantry or aviation officer.
London Yerasimides '23, a graduate of Kentucky Country Day School in Prospect, Kentucky, has been named Company F commander. She applied for the position for several reasons. "I wanted the leadership experience and I truly care about every single person in my company. I hope to lead my company well and that we continue to be the best company on the hill," said Yerasimides.
Yerasimides stated that her brother and sister have been her biggest supporters during her time at VMI and have pushed her to take chances and opportunities that she probably would not have taken otherwise. She is on the swimming and diving team and in the Honors Program. She will commission into the U.S. Navy, where she hopes to go into aviation.
Keenan Orr '23 has been named Company G commander. From Fredericksburg, Virginia, Orr graduated from Colonial Forge High School. In Company G, he has served as corporal and operations sergeant. He wanted to become the next commander of Company G because he loves working with and helping people. "In my time at VMI, I have had some of the greatest mentors I could have asked for in the class of '22. It won't be easy, but my goal for next year is to be the best I can in taking over the role of commander and help build my company into not only good cadets, but outstanding people. I owe it to my mentors, my classmates, the other classes in barracks, and to myself to give back everything that VMI has given to me," said Orr.
Orr plans on commissioning into the Army and hopes to branch into the infantry. He also wants to pursue a law degree.
Austin Gonzalez '23 has been named Company H commander. He is from Haymarket, Virginia where he attended Battlefield High School. Gonzalez stated that the reason he applied for this role is the same reason he has applied for all the positions he has held during his time at VMI. "I have a sincere pride in Company H, and I applied for company commander because I want to lead my fellow cadets and the classes below me with the pride and passion necessary to make Company H the absolute best company it can be, while developing myself into the absolute best leader I can be," said Gonzalez. He went on to share a story that made an impression with him when he was a rat, "Our company commanding officer was speaking to us and told us that it is our responsibility to consistently make the right decision and give our full effort, even when there is nobody watching us. This idea is something that I have carried with me ever since and it has guided me to act as a role model for my peers and the classes below me." After graduating, Gonzalez hopes to commission into the Army as an aviation officer.
Thomas Marlow '23, from Fort Worth, Texas, where he attended Fort Worth Country Day School, has been named Company I commander. He applied for the position because he has seen what a big impact an effective company commander can have on cadets. "I've seen how incoming rats will look to the company commander as a leader and I hope that I can have a similar powerful impact," said Marlow. This year, as a 2nd Class cadet, he serves as first sergeant of Company I, and last year as a 3rd Class cadet, he was company clerk. He has been on the Army ROTC Ranger Challenge team since his 4th Class year.
A strong influence for Marlow while at VMI has been his dyke, Alex Dragan '20, who was Company H commander. "I was blown away at how great a person and how caring Dragan was to those to which he held charge. My aspiration is to be as a good of a leader as he was," stated Marlow. After graduation, Marlow plans to commission into the Army.
Other ranks announced include Philip Augauer '23, from Vienna Virginia as 3rd Battalion commander; Andrew Duff '23, from Bethlehem, Pennsylvania as Company E commander and Luc Wilson '23 from Sterling, Virginia as Band Company commander.
Marianne Hause
VMI Photos by H. Lockwood McLaughlin
Communications & Marketing
VIRGINIA MILITARY INSTITUTE