VMI Hosts Fifth Commonwealth Cyber Fusion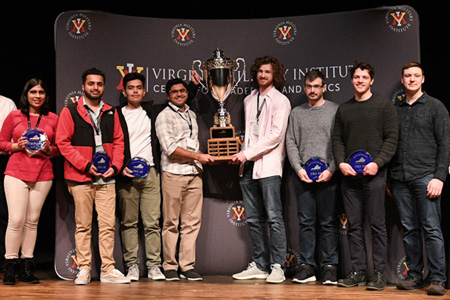 LEXINGTON, Va., March 1, 2022—Virginia Military Institute held its fifth annual Commonwealth Cyber Fusion and Virginia Cyber Cup Competition on Friday, Feb. 25, and Saturday, Feb. 26. This invitation-only event for Virginia colleges is co-hosted by the Virginia Cyber Range and the Commonwealth Cyber Initiative. Sen. Mark Warner is the honorary chairman. Starting in 2017, this cybersecurity event came at the suggestion of a cadet, Bryce Bucklin '17, that Virginia needed a statewide cybersecurity competition. Participants benefited from a job fair, professional headshots, an employer panel, a faculty round-table discussion, and keynote speaker Stoney Trent.
Trent is a retired Army colonel and a research professor at Virginia Tech. He is the founder and president of The Bulls Run Group, LLC, a company that specializes in delivering human-centered artificial intelligence for high-risk operations. His talk titled "We Should Care About People" emphasized that cyber professionals work on teams of people. "Get out from behind your computer and develop relationships and build trust," Trent encouraged. Throughout the career of a cyber professional, there are echelons of people who may or may not agree that there's a problem, the right person to solve it, or who may be smarter. He went on to explain that we must remember that people are the source of resilience, not technology. An agency's job is to set goals, direct attention, and allocate resources toward common goals. Trent used his own rather non-linear career path to illustrate his points, noting that in 1995 there were many unforeseen challenges and opportunities. He suggested to the audience that some of the best cybersecurity opportunities were in the U.S. military, with some, based on credentials and skills, that could open the door to direct commissions as senior officers.
Following the keynote speech was an employer panel featuring Michael Banks, security engineering manager for Amazon Web Services; Tony Harris, principal of global incident preparedness and response for Booz Allen Hamilton; and Ted Wagner '88, vice president and chief information security officer with SAP National Security Services (SAP NS2). The panel was moderated by Lt. Col. Ammad Sheikh, VMI's director of career services. Overwhelmingly, all panelists agreed that cybersecurity professionals should "continue doing the work… do it in your spare time." Other advice included networking with other professionals, doing extra-curricular assignments in school and at work, participating in cyber competitions and internships. Writing skills are also highly desirable and sought after. Certifications, the panelists said, can open doors, but demonstrating intellectual curiosity is a must. Self-learners tend to be more successful, so the audience was discouraged from shying away from stretch assignments. "A job is dependent upon someone saying you are ready to be stretched," said Wagner. The employers reminded the audience, "You will miss the shots you don't take."
On Saturday, during the competition, the faculty advisors and some job fair employers participated in a roundtable discussion hosted by the Commonwealth Cyber Initiative. Topics included creating more opportunities for undergraduates in research, complementing existing degree programs with experiential learning opportunities, and removing barriers, and increasing diversity in the cybersecurity workforce.
Participating were about 130 students with 30 of their faculty advisors, representing 19 colleges in Virginia: Danville Community College, ECPI, George Mason University, George Washington University, Germanna Community College, James Madison University, Liberty University, Lord Fairfax Community College, Marymount University, Norfolk State, Northern Virginia Community College, Old Dominion University, Radford University, Regent University, Thomas Nelson Community College, University of Virginia, VMI, Virginia Tech, and Virginia Western Community College. Each college could bring six competing students along with two observer students.
VMI cadets competing were John Barker '23, John Boles '24, Jacob Hill '24, Aidan Noonan '24, William Shelley '23, and Lynda Toumi '24. Observer students were Jordan Beck '23 and Joseph Flynn '25.
The Virginia Cyber Range runs the competition portion of the event as a capture-the-flag, Jeopardy-style competition. There were two competing divisions, one for community colleges and the other for four-year colleges. Community college winners were Lord Fairfax Community College in first with 432 points, Danville Community College in second with 176 points, and Northern Virginia Community College in third place with 161 points. The defending champion, George Mason University, captured first with 1,386 points for the four-year college division. Liberty University came in second with 1,157 points. The University of Virginia came in third with 961 points. VMI came in fourth place with 706 points.
More information on this year's event, including photos, can be found at www.vmi.edu/about/conferences/cyberfusion/. VMI's Center for Leadership and Ethics organizes this event as part of its strategic engagement initiatives.
Maj. Michelle Ellwood
VMI Photos by H. Lockwood McLaughlin
Communications & Marketing
VIRGINIA MILITARY INSTITUTE