All-Southern Conference Faculty and Staff Announced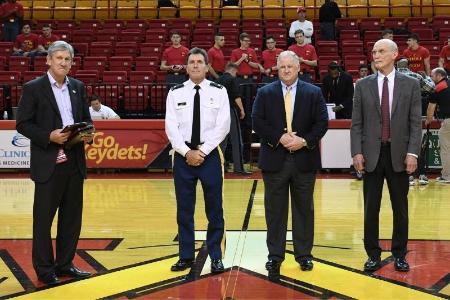 LEXINGTON, Va., Feb. 24, 2022—Dr. David Copeland, Institute physician, and Col. James "Jimmy" Coale, professor of physical education, were recognized by Jim Schaus, league commissioner, at the Feb. 23 home basketball game for being named members of the All-Southern Conference Faculty and Staff Team for the 2021-22 academic year. With two representatives from each of the Southern Conference's 10 member schools, the All-Southern Conference Faculty and Staff Team recognizes individuals who have demonstrated service to their schools and made contributions to campus life and the local community.

Coale has been at VMI for more than four decades. He has worked with all of VMI's athletic teams in some capacity over the years and oversaw facility expansions and renovations that have benefitted the athletic training of numerous cadets. Copeland has held his position since 1992, focusing on the health and safety of cadets. He helped with the transition of health care when women joined the Corps of Cadets and has most recently spent much of his time focused on the coronavirus pandemic care and prevention.

Also recognized at the game were Michael Marshall, chief of VMI police, and Col. Tim Hodges '80, recently retired professor of physics, who were named members of the 2020-21 All-SoCon Faculty and Staff Team. Due to COVID-19 limitations, last year's selections were not able to be recognized in person. Hodges was not able to attend the Feb. 23 game, but Marshall was on the court with this year's recipients.
Maj. Michelle Ellwood
Communications & Marketing
VIRGINIA MILITARY INSTITUTE