VMI Pipe Band Marches in NYC Tartan Day Parade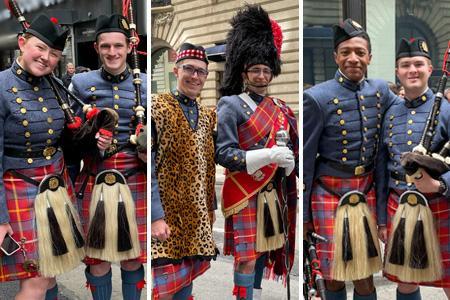 LEXINGTON, Va., April 12, 2022—The VMI Pipe Band proudly represented the colors of the Institute at the Tartan Day Parade in New York City on Saturday, April 9. Led by Drum Major Luis Ramirez-Vale '22 and Pipe Major Emily Liska '22, more than 40 pipers and drummers from all four classes marched in the parade. The group was accompanied by Maj. Burt Mitchell, director of the Pipe Band, and Command Sgt. Maj. Suzanne Rubenstein.
The VMI Pipe Band was seen by thousands of onlookers throughout the ten-block route. Their first time performing in this parade, the trip offered a special experience to band members, as they rarely have the opportunity to play with other pipe bands.
"It was incredible to be in a place with so many talented pipe bands and to be around so many people that are dedicated to keeping Scottish culture and traditions alive," Liska said. She hopes the Pipe Band makes this an annual event.
A 'tartan' is the pattern found on kilts, and each pattern is unique to a family, clan, or organization. Tartan Day is predominantly a North American celebration commemorating the signing of the Declaration of Arbroath in 1320 during the first Scottish War of Independence. Many of Scottish descent also celebrate the repeal of the 1747 Act of Proscription following the Scottish loss against England in the 1747 War of Independence. This act banned the wearing of tartans, playing of the bagpipes, and speaking Gaelic, all of which were integral to Scottish culture.
The tartan worn by the VMI Pipe Band was designed in 1996 by George "Donnie" Hasseltine '97 and Donald Fraser and is registered in the Scottish Register of Tartans. Hasseltine was the company commander of Band Company at the time, and Fraser was a designer and weaver in Berwick upon Tweed, Scotland. The design of the VMI tartan coincided with the unveiling of the VMI Pipe Band in the fall of 1996. Led by Drum Major John Duckworth '97, 12 kilted cadets first sounded off at the family weekend parade, and the band has sported the tartan since.
Emily Liska '22 and Eric Moore
VMI Photos by Command Sgt. Maj. Suzanne Rubenstein
Communications & Marketing
VIRGINIA MILITARY INSTITUTE