All-Southern Conference Faculty and Staff Team Announced: Two from VMI Recognized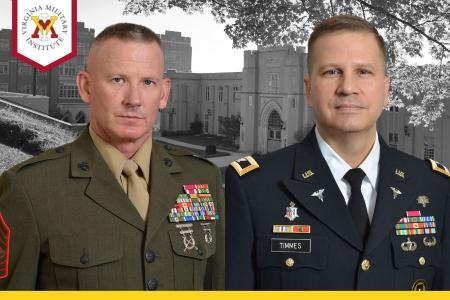 LEXINGTON, Va., Jan. 6, 2023—Col. Tom Timmes '92, professor of civil and environmental engineering at Virginia Military Institute, and Institute and Corps Sgt. Maj. Tom Sowers, were recognized recently by Jim Schaus, Southern Conference league commissioner for being named members of the All-Southern Conference Faculty and Staff Team for the 2022-23 academic year. With two representatives chosen from each of the Southern Conference's 10 member schools, the All-Southern Conference Faculty and Staff Team recognizes individuals who have demonstrated service to their schools and made contributions to campus life and the local community. Timmes and Sowers will be officially recognized during halftime at the Feb. 15 home basketball game against the Chattanooga Mocs in Cameron Hall.
Timmes served for over 25 years in the U.S. Army Medical Service Corps. His academic and research interests include water quality, electrocoagulation, military field drinking water, water treatment plant optimization, and water system vulnerability assessments. As an Army environmental engineer, he conducted extensive drinking water and wastewater system characterizations and public health threat assessments throughout the U.S. and overseas. He commanded the Headquarters Company of the U.S. Army Chemical Activity-Pacific on Johnston Atoll during its closure as a chemical agent demilitarization site and served as a Jumpmaster with the 82d Airborne Division. He taught a variety of academic subjects on the faculty at the U.S. Military Academy (West Point) for six years. Timmes commanded the U.S. Army Center for Environmental Health Research in Fort Detrick, Maryland, and served as the Director for Environmental Health Sciences and Engineering at the Army Public Health Center before retiring from Active Duty to join the VMI's Department of Civil and Environmental Engineering. As a volunteer diving coach, Timmes has helped the VMI men's and women's teams grow in number and skill, and provide critical points to the swim/dive team scores. Timmes dove for VMI during the 1988-89 season and finished the season as the Tri-State Champion for both the 1-Meter and 3-Meter diving boards. His 4th Class year total score for 11-dives on the 1-Meter board remains in the VMI record books. "I appreciate being selected for this award. It is very inspiring to see the motivation and drive of our cadet-athletes in the academic classrooms, during their daily practices, and especially when they compete to win," said Timmes.
Sowers retired from the United States Marine Corps in June 2018 and assumed his duties as the Institute and Corps Sergeant Major for VMI. The 30-year veteran of the Marine Corps assumed much of the day-to-day oversight of the Corps of Cadets and is responsible for administering the New Cadet Military Training Program and overseeing cadet leaders, among many other duties. Sowers came to VMI after having served as 1st Marine Division Sergeant Major at Camp Pendleton, California. He served five combat tours: one in Operation Desert Shield/Desert Storm, one in Operation Iraqi Freedom, and three in Operation Enduring Freedom. His awards include the meritorious service medal, the bronze star medal with combat distinguishing device and one gold star, the Navy and Marine Corps commendation medal with combat distinguishing device and two gold stars, the Navy and Marine Corps achievement medal with three gold stars, and the combat action ribbon with two gold stars. "I am humbled and honored to be recognized by the Southern Conference as well as Virginia Military Institute. I will continue to assist the Institute in meeting its mission of developing honorable men and women," said Sowers.
-VMI-