VMI Welcomes NFL's Shaquem Griffin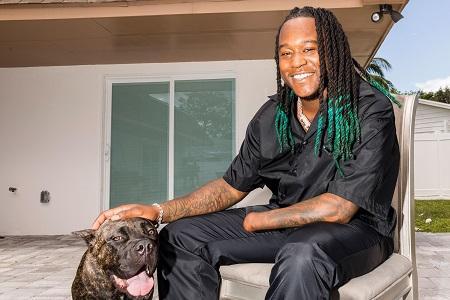 LEXINGTON, Va., Jan. 10, 2023—Virginia Military Institute welcomes guest speaker Shaquem Griffin on Wednesday, Feb. 1 at 7:45 p.m. in Gillis Theater in Marshall Hall. Griffin, who played in the NFL for the Seattle Seahawks as a linebacker, has only one hand. The event is free and open to the public as part of the Center for Leadership and Ethic's Courageous Leadership speaker series.
Griffin is the twin brother of Jacksonville Jaguars cornerback, Shaquill Griffin. Both brothers were remarkable athletes in high school and college at the University of Central Florida (UCF), and both were drafted by the Seattle Seahawks, but Shaquem did it all with just one hand.
At birth, Shaquem experienced a rare condition called amniotic band syndrome and his hand ultimately had to be amputated when he was four years old. His family refused to treat him any differently than his brother, and from the time he could say the words, his motto has been "please don't tell me what I can't do!"
Griffin's collegiate accomplishments include first-team All-American Athletic Conference linebacker, AAC Defensive Player of the Year, National Champion, and Peach Bowl MVP. After a historic performance at the NFL Combine, he was selected as a linebacker by Seattle, playing for the Seahawks from 2018 – 2020.
His story is captured in the Emmy award-winning short film "NFL 360: I am Shaquem Griffin."
Copies of his biography, "Inseparable: How Family and Sacrifice Forged a Path to the NFL" will be on sale in the lobby before the event and a book signing will take place after his talk. No other items will be autographed.
Future speakers the Center for Leadership and Ethic's Courageous Leadership speaker series include Retired U.S. Army Green Beret Lt. Col. Scott Mann on March 1, and Amber Smith, 101st Airborne in Iraq and Afghanistan, Air Mission Commander of AN OH-58 Delta Kiowa Warrior on April 13.
For more information, contact Kim Connolly at connollykv@vmi.edu.
Marianne Hause
Communications & Marketing
VIRGINIA MILITARY INSTITUTE