Breakfast with the Expert Hosted by CCI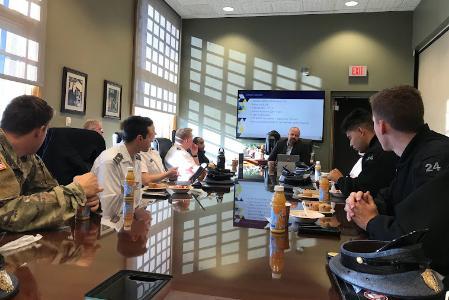 LEXINGTON, Va., Oct. 25, 2022—The Commonwealth Cyber Initiative (CCI) is sponsoring "Breakfast with the Expert," a discussion series at Virginia Military Institute that provides opportunities for cadets to learn from and interact with industry experts. It is organized by CCI fellows, Dr. Sherif Abdelhamid and Dr. Imran Ghani, both assistant professors in the Department of Computer and Information Sciences.
All VMI cadets are invited to have breakfast with an industry expert to ask questions on various career development aspects, particularly in the cybersecurity and computer science disciplines. Several experts with different industry experiences are scheduled to speak this academic year. In addition, the team is planning to reach out to students and faculty from nearby universities and community colleges to join future events. Col. David Smith, CIS department head, sees these experts as valuable in building the industrial advisory committee of the department.
The first breakfast in the series, held Oct. 21 in Marshall Hall, was with Jason Ancarrow '97, assistant vice president of enterprise cybersecurity for CarMax, where he leads cybersecurity operations and security architecture. He also serves on the advisory board for Virginia Commonwealth University cybersecurity center. Ancarrow earned a degree in economics from VMI, commissioned into the Air Force, and completed his commitment with the Virginia Air National Guard. He holds a master's degree in information security and assurance from Norwich University in Northfield, Vermont. His career spans over 20 years in program management, information security operations, and consulting with organizations such as AOL, Capital One, IBM, U.S. Army, and the FBI.
Future breakfast dates are to be determined, and will be held in Marshall Hall.
Virginia Military Institute is part of CCI Southwest Virginia.
-VMI-