Building BRIDGES Club Expands Opportunities for Cadets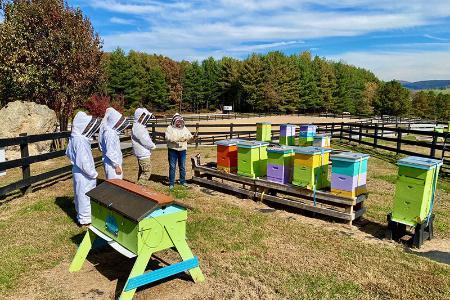 LEXINGTON, Va., Oct. 25, 2022—The Building BRIDGES Club at Virginia Military Institute is spanning to new lengths as it further connects cadets, faculty, and staff with the local community through civic engagement. Formed in 2014, the service club's initial focus was community service to organizations in the city of Lexington and Rockbridge County, an appropriate goal considering the deep-rooted bond between the people of those communities and the Institute. Recently though, the service club has taken on additional objectives of sponsoring events and college debates, as membership has grown to nearly 50 participants.
According to Col. Valentina Dimitrova-Grajzl, professor in the Department of Economics and Business and faculty co-advisor for BRIDGES, local organizations the club has assisted includes Project Horizon, a nonprofit organization that works with survivors and victims of domestic and sexual violence; Habitat for Humanity; the SPCA; Boxerwood Nature Center & Woodland Garden; Timber Framers; Meals on Wheels; the Rockbridge Area Prevention Coalition's youth group; Rockbridge Area Community Services; and the "Be a Santa for a Senior" program, providing holiday cards to residents in assisted living facilities. Recently BRIDGES visited Bels Bees, an apiary located in Fairfield, Virginia. While there, they learned about the different types of honey and the environmental impact on bees. They also learned about a group called "Hives for Heroes," a nonprofit that connects beekeepers with veterans, focusing not only on honey bee conservation but also a healthy transition from service for the veterans and fostering a lifelong hobby as well. "I am very proud of the Building BRIDGES Club and our cadet leaders over the years. We have worked hard and are making meaningful connections across post and in the surrounding communities. The residents of Lexington love the cadets, and the cadets are very cheerful and always eager to help. Our work through the club is very rewarding," said Dimitrova-Grajzl.
Sponsoring events has added an important dimension to the club allowing opportunities to grow in leadership, respect for others, and civility, according to Dr. Sabrina Laroussi, associate professor in the Department of Modern Languages and Cultures and co-advisor for BRIDGES. She stated that each semester the club sponsors a movie promoting gender equality. This semester's movie was "On the Basis of Sex," the story of Ruth Bader Ginsburg, her struggles for equal rights, and the early cases that lead to her nomination and confirmation as U.S. Supreme Court Associate Justice. The film was co-sponsored with Preston Library and Sigma Delta Pi, the National Collegiate Hispanic Honor Society. A follow-up virtual event to the film was held a few days later with two professors in the history department, Lt. Col. Mark Boonshoft and Maj. Madeleine Ramsey, who gave a brief presentation followed by discussion, on Ginsburg and gender equality jurisprudence from her time at the ACLU to the landmark Supreme Court case of the United States v. Virginia in 1996, which allowed women to attend VMI. An additional event is planned for January when Dr. Laura Fairchild Brodie, visiting associate professor of English at Washington and Lee University will discuss her book, "Breaking Out: VMI and the Coming of Women." "We always like to have a follow-up event after we show the films. It promotes intelligent conversation and on-going discourse about the topic," said Laroussi.
In association with Braver Angels, a nonprofit dedicated to promoting civil discourse, BRIDGES hosts college debates several times a year. Lt. Col. Sara Whipple, associate professor in the psychology department and co-advisor for BRIDGES states, "Topics of each debate often include sensitive issues where opinions may run passionately, so strict guidelines are enforced. Whoever wants to speak may do so uninterrupted and for a set period of time. The goal is to provide a place to express one's ideas without fear of negative repercussions, and to learn to listen to others' opinions courteously, and with an open mind."
BRIDGES is planning a major event for Nov 4-5 to celebrate the 25th anniversary of women being admitted to VMI. It is open to cadets, alumni, faculty, and staff. "The event will begin with the parade on Friday. We'll enjoy having meals together, participating in community building exercise and discussions, and comparing our collective experiences at VMI," said Dimitrova-Grajzl.
Marianne Hause
Communications & Marketing
VIRGINIA MILITARY INSTITUTE