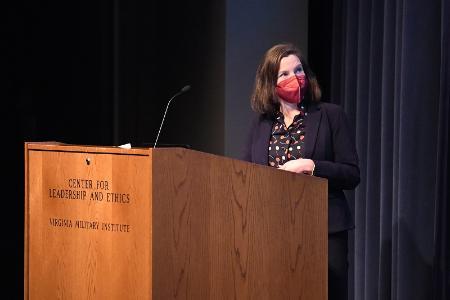 LEXINGTON, Va., Sept. 26, 2022—The ProCyEd (Professional requirements to Cybersecurity Education) Research team at Virginia Military Institute hosted its first Commonwealth Cyber Initiative (CCI) Symposium on Sept. 21 in Marshall Hall.
The symposium included presentations, panel discussions, and a keynote speech. VMI participants demonstrated their research activities, products, demos, and posters. The event also showed the CCI active projects, their outcomes, and fostered future collaborations and conversations toward new ideas and projects. It was co-chaired by Dr. Mohammed Azab, assistant professor at VMI and Dr. Denis Gracanin, associate professor at Virginia Tech.
"VMI cares about research and the opportunities it creates for cadets to be uniquely qualified and equipped for the job market. This symposium was made possible by CCI support and funding, as well as collaborative efforts of researchers and students working on novel research solutions to address major challenges facing our nation and to help build a more capable workforce," said Azab.
"This symposium is a collaboration and equal partnership between VMI and Virginia Tech, a much larger school. Bringing together my graduate students from Virginia Tech and the cadets here at VMI to share their research and ideas benefits both institutions," said Gracanin.
The keynote speaker was Gretchen Matthews, Ph.D., director of the Commonwealth Cyber Initiative in Southwest Virginia and Virginia Tech mathematics professor. "Commonwealth Cyber Initiative researchers at Virginia Military Institute are critical partners in our mission to establish Virginia as a global leader of excellence in cybersecurity research. Their research and focus on fully engaging a wide range of students in hands-on experiences strengthens the pipeline of talent development and prepares students to innovate and lead the cybersecurity industry," said Matthews.
The CCI is a network of industry, higher education, and economic development partners across the Commonwealth of Virginia. More than 35 institutions of higher learning are in the network and include William & Mary, Virginia Tech, George Mason University, Old Dominion University, University of Virginia, Virginia State University, Longwood University, Virginia Union University, and Virginia Military Institute. The CCI is Virginia's main access point for cybersecurity research, innovation, workforce development, and news. In this community, researchers find funding and collaboration, students discover diverse career possibilities, and new innovations come to life. It seeks to establish Virginia as a global center of excellence in cybersecurity research and serve as a catalyst for the Commonwealth's economic diversification and long-term leadership in this sector, and to serve as an engine for research, workforce development, and innovation at the intersection between cybersecurity, autonomous systems, and intelligence.
Marianne Hause
Communications & Marketing
VIRGINIA MILITARY INSTITUTE