Gov. Youngkin to Send Off Class of 2023
LEXINGTON, Va. April 19, 2023 — Virginia Gov. Glenn Youngkin will address the Virginia Military Institute's graduating Class of 2023 at the school's commencement exercises Tuesday, May 16, 2023, at 11 a.m. in Cameron Hall on VMI's post in Lexington, Va.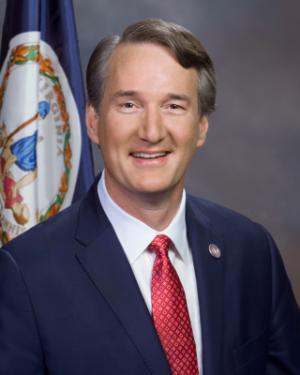 Youngkin, who as Virginia's governor serves as the commander-in-chief of the VMI Corps of Cadets, was sworn in as the 74th governor of the Commonwealth of Virginia on January 15, 2022, as members of the VMI Class of 2023 and the rest of the Corps of Cadets marched in his inaugural parade.
"We are honored that Gov. Youngkin has agreed to be VMI's commencement speaker," said Maj. Gen. Cedric T. Wins '85, VMI's superintendent. "It is only fitting that the current leader of the commonwealth share his wisdom and guidance with the future leaders of Virginia and the nation. We look forward to hosting him on post and showing him the treasure that is VMI."
VMI's graduation ceremony is the culminating event of a cadet's VMI experience. After four years of rigorous academics, ROTC training, athletics, and leadership development, more than 300 members of the Class of 2023 will receive their degrees and be relieved of duty to begin their careers in the military, public, and private sectors or to continue their education in graduate school. 99% of VMI graduates are employed or in graduate school within six months of graduation.
Youngkin was elected governor after a career working for Northern Virginia investment firm, the Carlyle Group, Inc. He was born and raised in Virginia where he worked his way up from washing dishes to becoming co-CEO of one of the world's top investment firms. As governor, Youngkin has focused his efforts on investing in education and public safety while creating jobs and growing the Virginia economy. He holds an engineering degree from Rice University and an MBA from Harvard Business School. Youngkin has been married to Suzanne for more than 28 years and together have four children.
10 a.m. Institute Awards, Memorial Hall

2 p.m. Cadet Change of Command / Graduation Parade, Parade Ground

7 p.m. Baccalaureate, Memorial Hall



9 a.m. Joint Commissioning Ceremony, Cameron Hall
Pin-on ceremonies for each armed services branch to follow at designated locations
2 p.m. Memorial Parade and Reading of Fallen Alumni Names, Parade Ground



11 a.m. Commencement Ceremony, Cameron Hall
- VMI -