VMI Ethics Team Wins Military Ethics Case Competition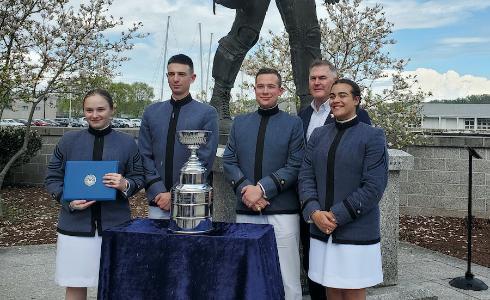 LEXINGTON, Va. April 21, 2023 — The Virginia Military Institute Ethics Team recently won first place at the Military Ethics Case Competition held at the United States Naval Academy (USNA) Stockdale Center for Ethical Leadership in Annapolis, Maryland.
The competition is open to any senior military college. This year's competitors included teams from the USNA, the Air Force Academy, West Point, and VMI.
Members of the team who traveled to Annapolis include Harris Burton '23, cadet-in-charge (CIC); Riley Shultz '24, assistant cadet-in-charge (ACIC); Gabriele Woodward '24; and Riley Malone '25. They were sponsored by the Center for Leadership and Ethics (CLE), and coached by Col. Patrick Looney, deputy director of the CLE.
According to Burton, the Military Ethics Case Competition is the most anticipated event of the year for the team. "We spent weeks preparing for this competition. This year's case was titled, 'Nipping Toxic Leadership in the Bud.'  We were tasked with developing a curriculum to identify and mitigate toxic leadership in the officer accession pipeline of our choice. We proposed an ROTC-specific curriculum based on the VMI Leader Journey that identified three lines of effort: academics, training, and assurance as the means to combat toxic leadership.  Specifically, the assurance effort included 360-degree reviews (performance feedback from peers, leaders, and followers) and annual self-assessments designed to identify the traits of psychopathy, Machiavellianism, and narcissism (The Dark Triad)," she said. 
The competition model called for teams to submit a slide show presentation in advance of the competition, a 30-minute in-person presentation, followed by a 20-minute question and answer segment, where competitors faced challenges by a group of judges, some of whom were retired military officers.
The VMI team won the competition in 2021, and were thrilled with winning again this year, with the additional honor of receiving the first perfect score given by a judge in several years. They were presented with a large trophy that will be on display in the post exchange (PX). USNA, West Point, and the Air Force teams placed second, third, and fourth, respectively.
In March, the team competed at the Association for Professional and Practical Ethics Intercollegiate Ethics Bowl National Championship held in Portland, Oregon. 
Burton, who graduates in May, said her experience on the Ethics Team has been a wonderful opportunity to develop her reasoning and discussion skills, as well as making life-long friends. "Other than my roommates, my teammates are the closest relationships I have formed at VMI. They mean the world to me, and we have a lot of fun together," she said.
Marianne Hause
Communications & Marketing
VIRGINIA MILITARY INSTITUTE