LaRocca Part of With Good Reason Segment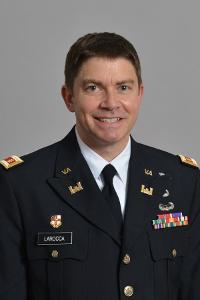 LEXINGTON, Va., Sept. 5, 2022—Maj. Michael LaRocca, assistant professor of psychology at Virginia Military Institute, will discuss transformational leaders who have inspired and driven change on the public radio program With Good Reason Sept. 10-16. LaRocca references his own experiences from his time as an executive officer in the Army.
In addition to LaRocca, the upcoming show, "Seeding Innovation," will feature Chris Kukk and Sheri McGuire from Longwood University who will talk about rural entrepreneurship. Also, Alex McKay from Virginia Commonwealth University speaks on his study of creative performance in the workplace, while Aaron Arndt of Old Dominion University will discuss preparation as a key to being a good negotiator.
With Good Reason is sponsored by the Virginia Foundation for the Humanities. Local broadcast times, as well as audio files of full programs and companion news features, are on the With Good Reason website.
- VMI -