VMI Alumnus Receives Fulbright Award
LEXINGTON, Va. June 26, 2023 — Virginia Military Institute is pleased to announce that Michael Piemonte '16, an alumnus who majored in international studies and commissioned into the U.S. Army as an intelligence officer, has received a Fulbright U.S. Student Program award in international relations to Italy for the 2023-2024 academic year from the U.S. Department of State and the Fulbright Foreign Scholarship Board.
Piemonte received the Fulbright-Luiss Award for MA Program in Business, Government, Law, and Political Economics, supporting his pursuit of a master's degree in international relations at Libera Università Internazionale degli Studi Sociali Guido Carli (Free International University of Social Studies), known as Luiss Guido Carli, in Rome. The award covers tuition, housing, and international travel for two academic years and provides an annual meal stipend.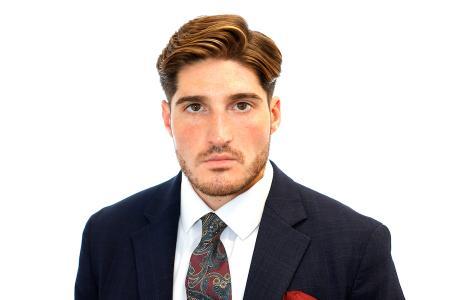 Piemonte joins the ranks of many esteemed Fulbright scholars and alumni in order to increase mutual understanding between the United States and other countries through the exchange of ideas and culture. "I am grateful to the VMI faculty, staff, and cadets of the Department of International Studies and Political Science whose inspiration set me on this journey. Throughout the course of my four years at VMI, I developed a deep passion for the study and practice of international affairs and a love of learning that has made all the difference in my life. I am also grateful to Brigadier General Charles F. Brower IV; Colonel J. Patrick Rhamey, Todd Goen, director of the Office of Global Education and senior international officer; and Martin F. Kindl of the Defense Intelligence Agency, who provided overwhelming support throughout the application process. Finally, my sincerest thanks to my family for their persistent support in all my personal and professional endeavors, especially my mother, Mary Ann. I hope to promote a more peaceful future and enjoy some Italian wine along the way." said Piemonte. 
After serving four years active duty, Piemonte went into the Army Reserves. As a civilian, he has worked for the past two years as an intelligence analyst and international engagement officer for the Joint Chiefs of Staff.
Recipients of Fulbright awards are selected in an open, merit-based competition that considers leadership potential, academic and/or professional achievement, and record of service. Their careers are enriched by joining a network of thousands of accomplished Fulbright alumni, many of whom are leaders in their fields. Notable Fulbright alumni include 62 Nobel Prize laureates, 89 Pulitzer Prize recipients, 78 MacArthur Fellows, and 41 who have served as a head of state or government. Since 1946, the Fulbright Program has provided more than 400,000 participants from over 160 countries the opportunity to study, teach and conduct research, exchange ideas, and contribute to finding solutions to shared international concerns.
The Fulbright U.S. Student Program is administered at VMI through the Office of Global Education (OGE). According to Todd Lee Goen, director of OGE and senior international officer, Piemonte is the seventh VMI cadet/alum to receive a Fulbright U.S. student grant. "This award provides the opportunity for him to further his education, deepen his cultural competence, build a global professional network, and strengthen U.S. relations abroad."  
Information about the Fulbright Program or the U.S. Department of State, may be found here or by emailing the Bureau of Educational and Cultural Affairs Press Office at ECA-Press@state.gov.
Marianne Hause
Communications & Marketing
VIRGINIA MILITARY INSTITUTE