VMI Cadet Receives Prestigious Boren Award
LEXINGTON, Va. July 3, 2023 — Antonio Ahanj '24, an international studies major at Virginia Military Institute, has been awarded a Boren Scholarship to study Arabic in Jordan during the 2023-24 academic year at Middlebury School in the Middle East: Jordan in Amman. Last summer, Ahanj studied Arabic in Tangier, Morocco.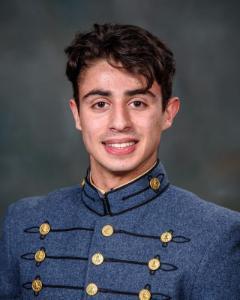 The David L. Boren Scholarships and Fellowships are sponsored by the National Security Education Program (NSEP), a component of the Defense Language and National Security Education Office (DLNSEO). NSEP is a federal initiative designed to build a broader and more qualified pool of U.S. citizens with foreign language and international skills. Boren Awards provide U.S. undergraduate and graduate students with resources and encouragement to acquire language skills and experience in countries critical to the future security and stability of the United States. In exchange for funding, Boren award recipients agree to work in the federal government for a period of at least one year. "The National Security Education Program has transformed how U.S. higher education approaches the study of foreign languages and cultures of the work and provides Americans opportunities to learn, grow and serve," according to Dr. Clare Bugary, director of DLNSEO"
This year, the Institute of International Education (IIE), which administers the awards on behalf of NSEP, received 541 applications from undergraduate students and awarded 210 Boren Scholarships. Just over 200 graduate students applied for the Boren Fellowships and 108 were awarded. The selected Boren scholars and fellows intend to study in 43 countries throughout Africa, Asia, Eurasia, Latin America, and the Middle East. They will study 33 different languages. The most popular languages include Mandarin, Arabic, Russian, Portuguese, Korean, Swahili, Turkish, Japanese and Indonesian.
Ahanj stated that with help of Todd Lee Goen, director of the Office of Global Education (OGE) and Patricia Hardin, assistant director of OGE at VMI, he was able to put together a strong application. "The application process consisted of multiple essays, as well as a committee interview consisting of seven VMI professors and faculty who had been vetted through Boren and Fulbright,"Ahanj said.
In early June, all Boren awardees were flown to Washington, D.C. for a two-day convocation where briefings were held with program alumni, directors, and personnel from the U.S. Department of State and the FBI. "Those two days were fantastic! I got to meet like-minded students who will be studying all around the world. Many of the students are in graduate programs at Ivy League schools across the country," shared Ahanj. 
Ahanj arrived in Jordan in mid-June and lives with a host family.
"They are some of the most generous and kind people I've met in my entire life. The people of the city are welcoming and encouraging. Whether it's been conversations with taxi drivers, restaurant owners, or people I've met on the streets, there has not been a single person who hasn't gone out of their way to help me practice and learn their language," he said. 
Since 1994, over 7,700 students have received Boren Awards and contributed their vital skills to careers in support of the critical agency missions throughout the federal government.
"To continue to play a leadership role in the world, it is vital that America's future leaders have a deep understanding of the rest of the world," says former U.S. Senator David Boren, principal author of the legislation that created NSEP. "As we seek to lead through partnerships, understanding of other cultures and languages is absolutely essential."
IIE is an independent not-for-profit founded in 1919 and among the world's largest and most experienced international education and exchange organizations. Undergraduate and graduate students interested in applying for the Boren Awards should contact IIE at boren@iie.org or go here.
Marianne Hause
Communications & Marketing
VIRGINIA MILITARY INSTITUTE