VMI Celebrates Founders Day, Honors Former Superintendent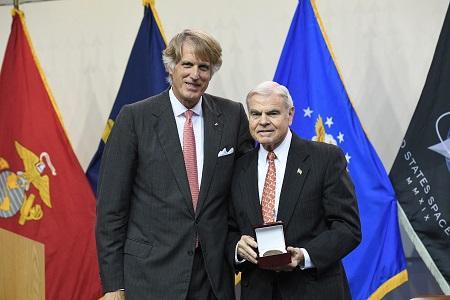 LEXINGTON, Va., Nov. 11, 2022—On a grey and rainy Veterans Day, Virginia Military Institute celebrated the 183rd anniversary of its founding and bestowed its highest honor upon Gen. J.H. Binford Peay III, VMI's former superintendent.
Members of the Corps of Cadets, along with faculty, staff, and special guests, joined together in Cameron Hall to honor the 14th superintendent, Gen. J.H. Binford Peay III '62, as recipient of the New Market Medal, VMI's highest honor. Peay is only the 16th recipient of the award since its introduction in 1962. The Board of Visitors voted unanimously to honor Peay at its September meeting. In addition, a video presentation of Peay's time at VMI was shown, and his official portrait was unveiled.
Maj. Gen. Cedric T. Wins '85, superintendent, set the tone for the annual celebration of Founder's Day. "This is a day to remember our beginnings and to look toward our future. VMI continues to remain current while honoring principles of our founding, training cadets to live a life of service and integrity that focuses on honor as a way of life. Today, in addition to remembering our founding, we are here to recognize an outstanding leader, General J. H. Binford Peay III," said Wins.
Sen. Thomas K. Norment Jr. '68, a member of Virginia General Assembly, also spoke. He noted that VMI has grown into a nationally-recognized institution of higher education citing numerous superior rankings. He called Peay a visionary who could also implement his vision, and his vision has been "incredibly successful."
The president of VMI's Class of 1962, Dr. John Duke Anthony III, said of his brother rat, "Peay is renowned for his emphasis on planning, preparation, pursuit, persistence, and perseverance. All those words begin with P, no pun intended," he quipped. When the audience laughter subsided, Anthony turned serious and addressed the cadets, "Why are you here? Why do you exist? When you awoke this morning, what went through your mind? What will you be? What have you been? What are you to become? What is it you would die for? You have a purpose with a service to others."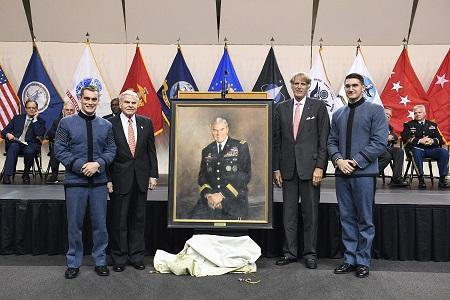 At the conclusion of Anthony's speech, Peay's portrait was unveiled by Peay; Thomas R. Watjen '76, president of the VMI Board of Visitors; Blake Smith '23, regimental commander; and Cameron Cavanaugh '23, class president. The work, an incredible likeness of Peay, received a standing ovation. It will be on permanent display in the Turman Room in Preston Library. The Class of 1962 funded the commission of the painting.
Watjen stated that when Peay was superintendent, he kept the focus on things that mattered, and produced leaders of the future. "He kept a relentless focus on three pillars: academics, athletics, and military life." Watjen recognized Peay's wife, Pamela, noting that she is an "unsung hero" and that she and her husband were a team. Watjen closed by reading a letter from Gov. Glenn Youngkin congratulating Peay and sending his best wishes, "Please know the gratitude I have for your unparalleled service to our nation, for the commonwealth, and to the Institute."
The last speaker was Peay, who with emotion, and humility, thanked the Board of Visitors for entrusting him with the position of superintendent, the staff who worked tirelessly for him, and the faculty who provided academic excellence. He offered many personal mentions of gratitude to individuals who brought energy, direction, and knowledge to the Institute over the years. He noted several changes that have happened over the decades, saying that some changes are just "a different way of doing things." His admiration of the Corps of Cadets remains strong. "I never tire of being in the company of VMI cadets and swell with pride of what you and the Virginia Military Institute represent."
Marianne Hause
Communications & Marketing
VIRGINIA MILITARY INSTITUTE