VMI Psych Class Visits Correctional Center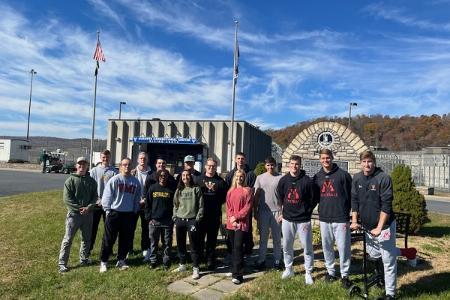 LEXINGTON, Va., Nov. 10, 2022—Lt. Col. Sara Whipple, associate professor of psychology at Virginia Military Institute, wanted to provide a way for the students in her Developmental Psychology course to connect the knowledge they have learned in class to a real world environment, so she recently took them on a field trip to Augusta Correctional Center, a close custody prison for adult male offenders in Craigsville, Virginia.
"The Developmental Psychology course studies human growth and what influences development, such as genetics, family, friends, and the larger environment. The goal of visiting the correctional center was to see what happens to a person when life events are not supported or corrected in a positive way," explained Whipple.
This semester her class consists of 20 cadets, mostly psychology majors, 15 of whom could attend the field trip. Prior to the trip, she assigned them the task of preparing questions they wanted to ask the offenders, and at least one of the questions had to be about developmental psychology. Additional preparations before visiting the prison included everyone getting tested for COVID-19, adhering to a dress code (the cadets did not wear their uniforms to protect their anonymity) and understanding visitor protocol. Once the group arrived at the prison, they went through screening similar to airport security.
The group toured a Shared Allied Management (SAM) unit which houses offenders who are either mentally ill, medically infirmed, or vulnerable to bullying because of learning challenges, age, size, or personality. The class saw a cell, the recreational yard, the cafeteria, and met with the staff psychologist. "The most memorable portion of the tour was meeting with three offenders, whom the class was able to interview. One was convicted of murder, one of rape, and one had robbed a bank. When asked about their childhoods, one shared that he had a difficult relationship with his mother. Another grew up in foster care. They were quite self-reflective. It surprised the cadets to learn that some offenders were educated and well spoken," stated Whipple.
According to class member Andrew Allgood '23, the trip to the prison was a once-in-a-lifetime opportunity. "Being able to sit face-to-face with people whose lives have turned out vastly different than anybody in our class was eye opening," said Allgood.
Grant Swinehart '24 agreed that it was a great learning opportunity for the cadets. "It was revealing to see how different factors in life may affect the development of a person into and throughout adulthood," he said.
The trip was the fifth time Whipple has taken a class to the facility. Some offenders she met years earlier have reflected and are trying to improve their lives. One even got paroled. Whipple hopes to continue the trips for future classes.
Marianne Hause
Communications & Marketing
VIRGINIA MILITARY INSTITUTE