VMI Class of 2024 Celebrates Ring Figure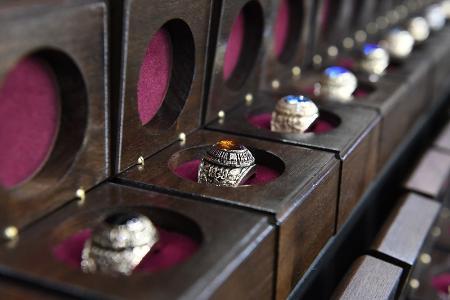 LEXINGTON, Va., Nov. 21, 2022—Prior to heading home for Thanksgiving furlough, the Virginia Military Institute Class of 2024 celebrated Ring Figure, a highly anticipated milestone, on Nov. 17 and 18.
The traditional presentation of the combat rings in Cocke Hall and class supper in Crozet Hall were held Thursday, Nov. 17. The Douglas Carter France III '71 Memorial Award for "excellent character, selflessness, graciousness, and enthusiasm" was presented by Warren J. "Buddy" Bryan '71 to Owen Ahrens '24, a biology major from Lynchburg, Virginia. Ahrens was thrilled by the recognition. "It was truly one of the most humbling feelings, sitting there hearing qualities like excellence of character, selflessness, graciousness, and enthusiasm attached to my name. I felt so undeserving. When I came to VMI, it was always my main focus to remain true to the qualities my parents instilled in me, and by receiving this award, it is truly a reflection on the success of my parents," he said.
Retired Col. James B. Hickey '82 addressed the class during the supper. He graduated from VMI as a Distinguished Military Graduate and was commissioned into the Army in 1982. His military career is extensive and notable, serving all over the world. On June 13, 2003, he took command of 1st Brigade, 4th Infantry Division (mechanized) and led the brigade through a year of combat operations in Saladin Province in Iraq. The brigade and special operations troops were credited with the capture of Saddam Hussein on Dec. 13, 2003. For this and combat effectiveness, the "Raider Brigade" was recognized by the secretary of the Army with the Valorous Unit Award. Decorated for gallantry, valor and merit, Hickey's decorations include the Distinguished Service Medal, the Silver Star, the Defense Superior Service Medal, the Legion of Merit with Oak Leaf Cluster, the Bronze Star for Valor, the Bronze Star with Oak Leaf Cluster, the Iraq Campaign Medal with Four Stars, and the Valorous Unit Award. Hickey encouraged the class to enjoy the weekend, to laugh and joke. "Ring Figure is a pinnacle moment in a cadet's career, an acknowledgment of your dedicated performance and your potential increased responsibility. Because of your hard work, perseverance you've developed an all-important endurance," he said. He went on to share, "The qualities of an effective leader are responsibility, trust, loyalty, judgment, decisiveness, persistence, and encouragement." He concluded by motivating the cadets to set high standards and congratulating them for maintaining VMI as an example of military excellence.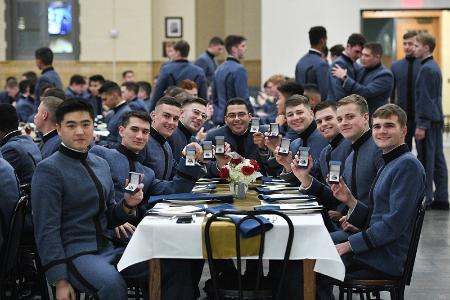 Sgt. 1st Class Alexander R. Morrow, military science instructor at VMI, was presented a signet dinner ring by Bryson Minear '24, Ring Figure Committee president. "Morrow has impacted so many of the cadets through his positive spirit and caring personality. He is truly an amazing person, and the class adores him. The class nominated him to be our Honorary Brother Rat for the evening," said Minear. In his acceptance speech, Morrow encouraged the cadets to be humble and that their success in life will be driven by being themselves and by thinking for themselves.
A family brunch in Crozet Hall was followed by the formal ring presentation ceremony where 2nd Class cadets receiving their individualized rings in Cameron Hall Friday, Nov. 18. Maj. Gen. Cedric T. Wins '85, superintendent, opened the ceremony by thanking the families for their support. He told the cadets that ring figure is one of the more memorable events of their cadetship. It is a great milestone, and that he is honored to be able to present them with their rings. He reminded them that the history of the ring is almost as old as VMI itself, although the rings have changed over the years. "Early in VMI's history, the rings were simple, usually with just a one word inscription, 'Mizpah' (God be with you until we meet again.)." Wins went on to describe how the modern rings are much more detailed and considerably bigger than the original VMI rings. In fact, they are larger than most other college rings in the country. He described how the detail of the rings will wear off, but what will be left is the gold core, much like the original rings, and the core, like VMI's mission, is the most important part. "When you feel the weight on your finger, or when the sparkle of the stone catches your eye, it will remind you of your achievements, and the bond with your brother rats. Wherever you go, the ring will be noticed, so wear it with honor, pride, and sense of duty." He closed with, "Congratulations and beat Citadel!" The cadets' response was spirited, enthusiastic, and thunderous. They not only had Ring Figure on their mind, but also the Military Classic of the South football game against the Citadel Bulldogs the following day.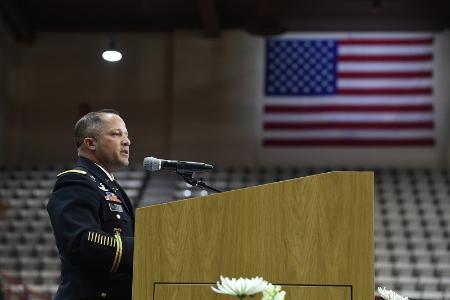 Remarks were provided by Col. Kevin M. Trujillo '98, who was 1st Class president in 1997 when VMI welcomed the first female cadets. He holds a master of science degree in defense analysis from the Naval Postgraduate School and completed a National Security Fellowship at the Harvard Kennedy School in Cambridge, Massachusetts. He attended the U.S. Marine Corps Amphibious Warfare School in Quantico, Virginia, and emphasized that the attacks on 9/11 changed the entire course and focus of his career. He commanded and deployed in support of Operation Enduring Freedom, and Operation Iraqi Freedom. In 2013, he was assigned to U.S. Special Operations Command as a strategist in the commander's action group. In 2014, he deployed to Afghanistan with the Special Operations Joint Task Force and served as a future operations planner. In 2015, he was selected to serve in the Joint Special Operations Command as a strategic planner. In 2016, he was deployed as the commander of special operations task force-Afghanistan. In 2020, he served as the 7th SGG (A) deputy commanding officer prior to assuming command. He lives in Florida with his wife and two children. Trujillo told the class that he was humbled to be back at VMI, and recognized them for choosing to attend the Institute, for making the commitment to challenge and better themselves whether or not they commission into the military. "All of you choosing VMI is a rarity. You are definitely the minority among your peers, and that is precisely why we need you, why our country needs you," he stated. Quoting from the movie, "Wonder," he told the cadets, "'You can't blend in, when you are born to stand out.' Like the young boy in the movie, you didn't come to VMI to blend in, or sit passively waiting for things to happen around you. No, you came here to make things happen," he said. Trujillo continued to talk about the theme of "through shared suffering." He stated that through shared suffering comes purpose, through shared suffering comes perspective, and through shared suffering provides opportunity for leadership. He referenced the book, "Man's Search for Meaning," a book by Viktor Frankl chronicling his experiences as a prisoner in the Auschwitz concentration camp. In the book the author explains three ways to find meaning in life: through work, through love, and through suffering. Trujillo stated that the book helped him get through a dark time in his life. He described to the cadets the traits of good leaders, "They inspire, they listen with empathy and compassion, they are humble and honest. But leadership is lonely, especially when you lead with character, because good leaders have to make very tough calls." He concluded by saying, "This weekend is a momentous occasion. It marks your achievements, it gives you hope, and it's one of the may rites of passages here at the Institute. It serves to strengthen bonds. Embrace this moment, enjoy the weekend, take care of each other. RahVaMil."
Wins presented cadets with their rings, and cadets and their families then relocated to Memorial Hall for a ring blessing, led by Benjamin May '24. At the blessing, two cadets shared how they believe the ring should interact with their faith, followed by special music. Lt. Col. John Casper '04, associate chaplain, then shared his thoughts with the class that "the prize is worth the price," a slogan he had read on VMI admissions literature when he was a high school student considering VMI. It encouraged him to matriculate and to get through the Rat Line. "That slogan helped me get through a lot at VMI. I remember finally getting my ring 20 years ago almost to the day, right here in this building. My date had backed out just less than a week earlier, I was overwhelmed with academics, and I had a boxing match that very morning. Then, I looked down at my ring. Inside was inscribed, 'the prize is worth the price,'" he reflected. He encouraged the class that the idea that the prize of the end goal is worth the price you need to pay to get there, whether it is the purchase price of a ring, or enduring struggles at VMI, or challenges in knowing God. Life is full of hardships, but with hardships comes blessings. He concluded by saying, "Your ring is temporary. Your soul is eternal. Fight the good fight of faith, run the race of life with endurance. Grow your faith. Get to know God better. The prize, like your ring, is worth the price."
The evening wrapped up with the Ring Figure ball held in Cocke Hall with the traditional white gowns and gloves, the processions through sabers and the giant ring, and dancing.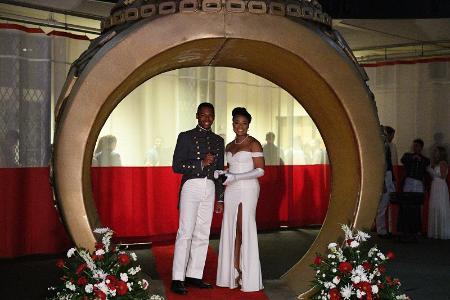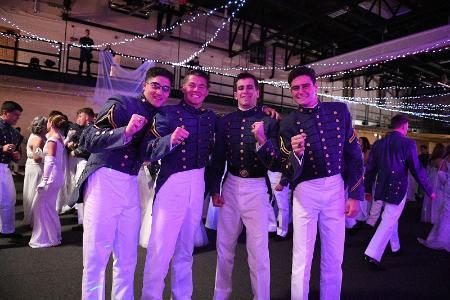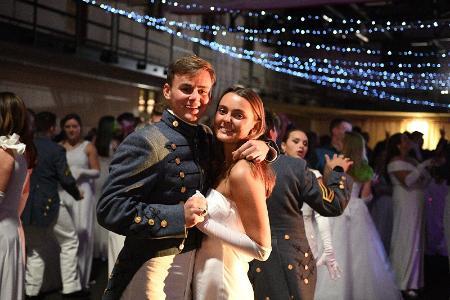 Marianne Hause
Communications & Marketing
VIRGINIA MILITARY INSTITUTE