VMI Ethics and Debate Team Places Well in Regional Competition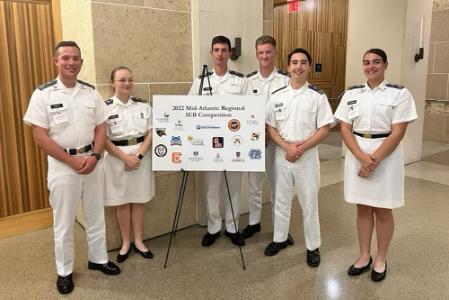 LEXINGTON, Va., Nov. 21, 2022—The Virginia Military Institute Ethics and Debate Team recently competed at the Mid-Atlantic Regional Intercollegiate Ethics Bowl Competition hosted by the University of North Georgia in Gainesville, Georgia. The one-day, multi-institutional collegiate competition was held in partnership with the Association of Practical and Professional Ethics (APPE). There are four main rounds, a semi-final round, and a final round within the competition to determine the top teams that will advance to the national competition sponsored by APPE.
VMI's team was sponsored by the Center for Leadership and Ethics, and coached by Dr. Duncan Richter, the Charles S. Luck III '55 Institute Professor in the Department of English, Rhetoric, and Humanistic Studies. According to Richter, the competition involved 18 teams from 17 different colleges and universities including the University of Chicago, the University of North Carolina, Clemson University, Virginia Tech, and the University of Mississippi. "The teams had to study 15 ethically controversial cases in advance of the competition. When they got to the competition, they found out which cases and specific questions they would have to discuss. Teams were scored on their ability to identify the morally relevant aspects of the issue, to defend their particular answer in a clear and rational way, and to consider alternative points of view. To win you need a combination of preparation, knowledge of ethical theory, organization, and clarity of presentation. It's not easy. The cadets involved did a great job and should really be proud of themselves," said Richter.
Members of the team include economic and business majors Harris Burton '23 (cadet-in-charge of the Ethics and Debate Team), and Spencer Greaney '23, international studies majors James Ellison '23, Riley Shultz '24, and Gabriele Woodward '24, and history major Riley Malone '25.
For the first time ever, VMI's team finished in the top four, narrowly losing to the University of Mississippi in the semi-final. By winning 4th place, the team qualified for the 27th Annual Association for Practical and Professional Ethics Intercollegiate Ethics Bowl to be held March 4-5 in Portland, Oregon.
Marianne Hause
Communications & Marketing
VIRGINIA MILITARY INSTITUTE