VMI Employee Retires After 43 Years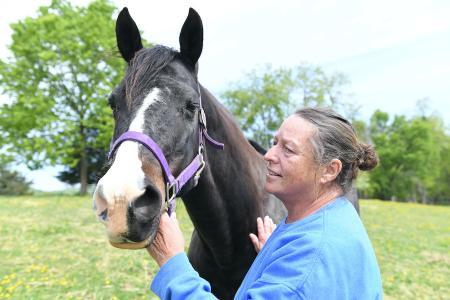 LEXINGTON, Va. May 4, 2023 — It takes a dedicated team to keep the uniforms worn by the Corps of Cadets at Virginia Military Institute impeccably clean, crisp, and worthy of the respect they deserve. Belva Drain, a vital member of the laundry services team, has retired after 43 years.
Drain started her tenure at VMI in 1979, immediately after graduating from high school. She knew a few people who worked on post who informed her that positions were readily available. "I went in to apply for a job, and was hired immediately. I don't even remember if I filled out an application, but I started work the next day," she reminisced. She started as part-time, and within four years was promoted to a full-time employee with benefits.
Drain stated that working with the people in laundry services was like working with family. "Elsie Smith took me under her wing when I started. I call her my second mama. We still keep in touch. Her daughter calls me sis," she shared. Drain even found romance in the department when she met her "better half" Paul Ramsey, who worked there for 37 years.
According to Greg Bowman, laundry services manager, whenever anyone in the department had a question or needed to know how to do something that related to laundry, they would go to Drain. "Belva was our departmental knowledge and go-to lady. She would tell us stories from previous years about how things operated that made us even more thankful for our current work environment," he said.
Although Drain has retired, work continues on her farm consisting of 144 acres and 29 head of cattle, including a bottle-fed calf named "Buddy Boy." She has an American Paint horse named "Peepers," a blue heeler dog named "Joe," and a cat called "Bella," along with many unnamed barn cats. She tends a large garden where she grows a variety of vegetables, which she also cans. While the commitment of caring for the animals prevents her from traveling extensively, the scenic vista from her mountaintop makes staying close to home easy. "Waking up to that view each morning never gets old," she said.
Marianne Hause
Communications & Marketing
VIRGINIA MILITARY INSTITUTE