VMI Global Education Director Attains Award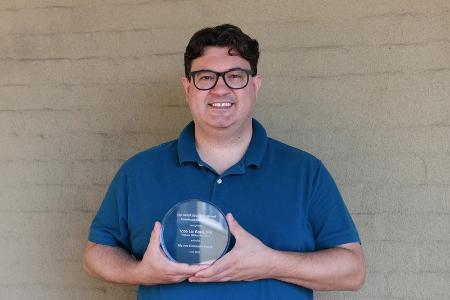 LEXINGTON, Va., Aug. 29, 2022—Todd Lee Goen, new director and senior international officer in the office of global education (formerly known as international programs) at Virginia Military Institute, recently won the coveted Lily von Klemperer Award bestowed by NAFSA: Association of International Educators.
NAFSA is the world's largest and most comprehensive nonprofit association dedicated to international education and exchange. It serves the needs of more than 10,000 members and international educators worldwide at more than 3,500 institutions, in over 150 countries.to international. NAFSA
The award, named for the first recipient Lily von Klemperer, was presented at the NAFSA annual conference in May, held in Denver, Colorado. It is bestowed annually to a worthy education abroad professional who is seen to have years left to devote to the profession. The award seeks to recognize people who have "brought other [education abroad professionals] along" in the field and who maintain the highest standards of professional ethics while sharing their skills, knowledge, and expertise with all colleagues.
"It is quite an honor to win this award, as it is only bestowed to one person each year. I was nominated by a colleague, and it is very rewarding to know that others appreciate my work," said Goen.
Goen has been heavily involved with NAFSA for years as a member of the Trainer Corps, a group of over 400 international education practitioners who are recognized as valuable teachers and
leaders within their regions, as well as a coach at the NAFSA Academy for International Education for two years. The academy is an intensive yearlong training program with extensive networking opportunities designed to expand and deepen understanding of international education. He is currently the chair-designate of the academy.
At VMI, Goen oversees education abroad, international student and scholar support services, grant/program management, and strategic planning and initiatives for campus internationalization. He also teaches fundamentals of public speaking for the English, Rhetoric, and Humanistic Studies department. He arrived in May 2022.
Prior to coming to VMI, Goen held full-time faculty positions at Christopher Newport University, Purdue University Fort Wayne, and Clemson University, teaching courses in human communication and quantitative research. His previous university administrative leadership includes: faculty director for cultural communication competence in Benelux, internship director, public speaking coordinator, chair of international studies advisory committee (the oversight committee for campus internationalization), and vice-chair of the institutional animal care and use committee.
Goen's research interests focus on interpersonal and family relationships and their intersections with nonverbal behavior and intercultural contexts. His published works appear in Communication Research Reports, Family Science Review, and the Journal of Global Initiatives: Policy, Pedagogy, and Perspective.
Goen is an honors college graduate with a bachelor's degree in computer science, French, and vocational ministry from Harding University. He holds a master's degree in communication from the University of Arkansas and has completed all coursework toward a doctorate in communication from the University of Georgia. He is the 2020 recipient of the John I. Sisco Excellence in Teaching Award through the Southern States Communication Association.
VMI emphasizes global outreach in many ways: study tours, cultural exchanges with foreign military academies and civilian universities, international internships, and study abroad programs.
Over 10 percent of the Corps of Cadets take advantage of global education every year. VMI offers semester study abroad programs with approved third-party providers, exchange programs at military academies, and direct enrollments at universities abroad, as well as summer study abroad opportunities both through VMI faculty-led summer programs and through approved third-party providers.
Cadets are permitted to study abroad after their first year at VMI, and may study abroad one regular semester (spring or fall) and as many summers as they like.
The Institute has several scholarship funds to aid cadets who want to go abroad. The office of global education assists cadets with applications for national scholarships, including the Fulbright, Olmsted, and Boren Scholarships and all aspects of planning study abroad programs.
Marianne Hause
Communications & Marketing
VIRGINIA MILITARY INSTITUTE