VMI Welcomes New Cadets at Matriculation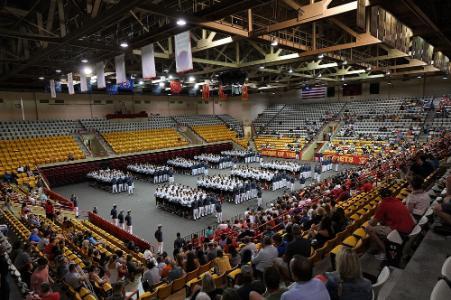 LEXINGTON, Va., Aug. 22, 2022—Matriculation Day was held at Virginia Military Institute on, Saturday, Aug. 20, beginning the Rat Line for the new academic year. This year is the 183rd year of the Institute and celebrates the 25th anniversary of women at VMI.
Maj. Gen. Cedric T. Wins '85 addressed the incoming 375 matriculants and their families, and the cadets took an oath during a ceremony in Cameron Hall. The cadets said good-bye to their families, formed up with their companies for the first time, and marched up to barracks, where they met their cadre, a group of cadets holding rank in each company and are chosen based on performance and ability to serve as instructors for the newest cadets.
This year's new cadets come from 31 states and six foreign countries, with 62% from Virginia and 38% from out of state. Fifty-three are female, and nearly 120 are recruited NCAA athletes. Fifty-one percent are majoring in the STEM (Science, Technology, Engineering and Mathematics) disciplines and 49% in the liberal arts. Eighty percent plan on commissioning into the military after graduation.


Left to right: Isabelle Cabales '25 oversees the Matriculation Book as Avan Johnson '26 signs it, officially matriculating to VMI.—VMI Photo by Kelly Nye. VMI matriculants meet their cadre in New Barracks Saturday, Aug. 20.—VMI Photo by Marianne Hause. Mike Vozzo buzz cuts a matriculant's hair in the VMI Barber Shop Saturday, Aug. 20.—VMI Photo by H. Lockwood McLaughlin.
The matriculation process continues throughout the week with the cadre leading the new arrivals in military drills and physical training, culminating with the Rat Crucible on Sunday, Aug. 28. The new cadets will officially become the Class of 2026 early in the spring semester, after Breakout.
Members of the Old Corps return Sunday, Aug. 28, and classes begin Tuesday, Aug. 30. Details about events at VMI, including parades, guest speakers, and athletic competitions, for the upcoming semester can be found in the events calendar.
Marianne Hause
Communications & Marketing
VIRGINIA MILITARY INSTITUTE