VMI Hosts 6th Annual Commonwealth Cyber Fusion Event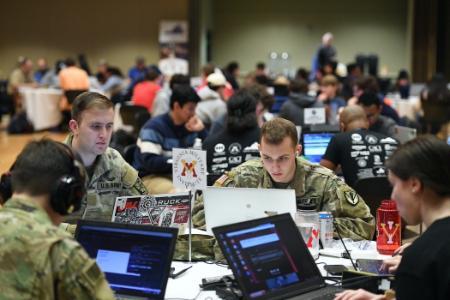 LEXINGTON, Va. March 3, 2023 — Virginia Military Institute hosted the 6th annual Commonwealth Cyber Fusion and Virginia Cyber Cup Competition, a state-wide collegiate cyber security competition Feb. 24-25. The invitation-only event is for colleges that are National Security Agency (NSA) / Department of Homeland Security (DHS) designated National Centers of Academic Excellence in Cyber Defense. It was organized by the Center for Leadership and Ethics as part of its strategic engagement initiatives, co-hosted with the Virginia Cyber Range and the Commonwealth Cyber Initiative.
VMI founded this cybersecurity event in 2017 at the suggestion of Bryce Bucklin '17, a computer science major, when the Commonwealth of Virginia sought to create a statewide cybersecurity competition.  Sen. Mark Warner serves as honorary chairman.
Participating were about 150 students with 30 of their faculty advisors representing 20 Colleges in Virginia: Danville Community College, ECPI, George Mason University, George Washington University, Germanna Community College, James Madison University, Liberty University, Laurel Ridge Community College, Marymount University, Northern Virginia Community College, Old Dominion University, Radford University, Regent University, Virginia Peninsula Community College, University of Virginia, Virginia Commonwealth University, VMI, Virginia Tech, and Virginia Western Community College. Each college was allowed to bring six competing students along with two observer students.  
VMI cadet competitors were Nick Schaefer '23, William Shelley '23, John Boles '24, Alexa Avery '25, Joseph Flynn '25, and Alex Dieffenbach '26.  
Friday's activities included a keynote speech by Maria Sumnicht, who was the Urban Technology Architect for New York City Cyber Command, responsible for the cyber security and technologies for the more than 65 city agencies; a job fair; and an employer panel discussion regarding real-world advice for students.
The winners of the capture-the-flag-style competition for the four-year college division are: University of Virginia in first, Liberty University finishing second, and George Mason University in third. For the community college division: Tidewater Community College was the winner, followed by Laurel Ridge Community College in second, and Virginia Western Community College in third. The University of Virginia was the overall winner and received the Commonwealth Cyber Fusion Cup. 
Want to learn more about cybersecurity? VMI offers courses under the Department of Computer and Information Sciences, including an opportunity for cadets to participate in the Cyber Defense Laboratory.
Marianne Hause
Communications & Marketing
VIRGINIA MILITARY INSTITUTE