VMI Bands Perform in New Orleans Mardi Gras Parade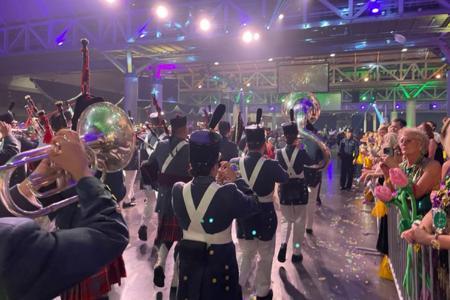 LEXINGTON, Va. March 2, 2023 — The Virginia Military Institute Regimental Band and Pipe Band traveled to New Orleans, Louisiana recently to perform in the Krewe of Endymion, the largest Mardi Gras parade in the city. This year marks the 15th time since 1992 that the bands have appeared in the seven-mile parade, which boasted 81 floats, 45 bands from all over the country, and lasted five hours.
Col. John A. Brodie, music director, said, "As usual the cadets were a huge hit with the hundreds of thousands of people along the parade route, and at one point they performed 'The Saints Go Marching In' for the mayor of New Orleans, LaToya Cantrell. There were many hours of rehearsals for this undertaking, and it paid off. The band company leadership was excellent, particularly Luc Wilson '23, commander, and Maddie Chupas '23, executive officer.
According to Wilson, the bands were crowd favorites for their unique display of discipline and professionalism. "I hope to see band company travel to many future parades across the country as ambassadors for the Institute," he said. 
Thanks to the 437th Airlift Wing headquartered at Joint Base Charleston in South Carolina, the cadets flew from Roanoke to New Orleans on a C-17. In addition to Brodie, the cadets were accompanied by Maj. Brian Donaldson, pipe band director; Maj. Erik Blum '10, recruiting officer and professor of aerospace studies for AFROTC; Maj. Domonique Blum '10, assistant director of admissions; Staff Sgt. Andrew "A.J." Burns, battalion OPS & training; and Cmdr. Julie Shank, operations, plans & training.
Marianne Hause
Communications & Marketing
VIRGINIA MILITARY INSTITUTE