VMI Hosts Annual Cyber Fusion for SMC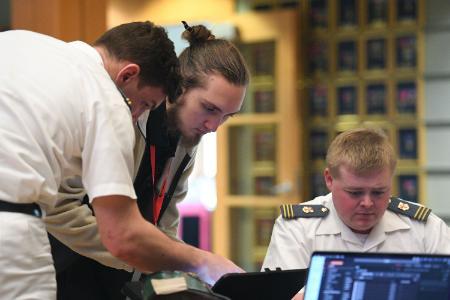 LEXINGTON, Va. April 24, 2023 — Virginia Military Institute hosted Senior Military College Cyber Fusion April 16 – 18 in Marshall Hall.
The event included team-based, real-world scenario decision-making exercises along with guest speakers, an expert panel, and networking opportunities.
Group exercises and a competition were also part of the event, including a capture the flag (CTF) competition. The winners of the CTF competition were VMI in first, Virginia Tech finishing second, and The Citadel in third.
Participating senior military colleges (SMC) include Norwich University, Texas A&M, The Citadel, University of North Georgia, and Virginia Tech.
Keynote speaker retired U.S. Army Brig. Gen. Jeffrey G. Smith Jr. '79 spoke Monday, April 17 in Gillis Theater. Recently retired from VMI, Smith served four years as dean of faculty and deputy superintendent for academics, followed by four years teaching in the Department of Computer and Information Sciences.
His talk titled, "The Landscape of Cyber," addressed the use of Artificial Intelligence (AI). He encouraged his audience not to fear AI, as many do, but to embrace it and develop it into an aid to help humanity in all forms of day to day life, including household chores, solving crimes, and discovering new areas of the universe.
A panel discussion was held on Cybersecurity Workforce-Readiness for Cadets in Securing Department of Defense Opportunities, followed by a presentation by VMI's Dr. Mohamed Azab titled, "Cybersecurity Workforce Development and Education: Challenges and Opportunities."
This cybersecurity immersion experience is the first in a series of events to take place at the SMC's in the coming years as part of the joint DoD Cybersecurity Leadership Development Program.
-VMI-