VMI Inducts 2022 Hall of Fame Class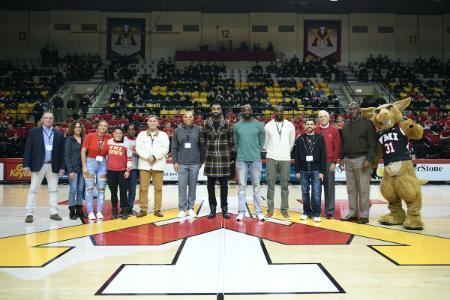 LEXINGTON, Va., Jan. 24, 2023—Virginia Military Institute inducted its 2022 Sports Hall of Fame class at a banquet on Jan. 21, 2023 in Marshall Hall on post.
With the coronavirus pandemic interrupting the standard three-year cycle of inductions, the 2022 Hall of Fame class consisted of 10: seven members plus a veteran honoree and two special citation honorees as voted on by the committee. The seven cadet-athlete honorees were: Alexander Alston III '92 (men's soccer), Donnie Cowart '09 (men's cross country/track & field), Audrey Falconi '10 (women's soccer), Chavis Holmes '09 (basketball), Travis Holmes '09 (basketball), Tim Maypray '10 (football), and Reggie Williams '08 (basketball). Additionally, Kelly Lombard '79 (basketball) was inducted in the veteran category, while Mike Bozeman, the former VMI director of track & field and cross country, and athletics statistician George Tolley were inducted under the Special Citation Category. The ten were also recognized earlier in the day during halftime at the home basketball game against the Citadel Bulldogs in Cameron Hall.

Alexander Alston III '92
An anchor for the Keydet defense, Alston became the second player in soccer program history to earn All-Southern Conference honors three times, earning All-SoCon Tournament recognition in 1989. Earning four SoCon Player of the Week awards during his career, Alston made 66 starts and helped lift VMI to a 9-7-1 record in 1990, the first winning record in program history.

Donnie Cowart '09
An All-American in 2010, Cowart finished 12th at the NCAA Outdoor Track and Field Championships in the 3,000-meter steeplechase. Holding the VMI record for indoor mile (4:04.35), Cowart was also part of VMI's top relay teams in history, running on the 4x1500m (2005 – 16:41.64) and 4x1600 (2006 – 17:44.63) teams, qualifying for the 2008 IC4A Championships, finishing 8th that year in the Big South Indoor Championships. In addition to his track accolades, Cowart earned All-Big South honors in cross country in both 2005 and 2007. After leaving Lexington, Cowart raced semi-professionally, meeting the Olympic B standard and was just 0.3 seconds off the Olympic A standard in the 3,000 steeplechase.

Audrey Falconi '10
Perhaps the most decorated women's soccer player in VMI history, Falconi was the first female recipient of VMI's Three-Legged Stool Award, was elected to the 2000-10 Big South Conference All-Decade Team, earned Big South First Team honors twice (2008 and 2009) and Second Team honors in 2007. Holding down the back line at sweeper, Falconi played every minute of the 2009 season, being named Big South Scholar-Athlete of the Year honors as well as the Big South Graduate Fellowship. Falconi helped VMI complete the biggest turnaround in Big South history in 2008, as the Keydets went 5-3-1 in the regular season. Ranking fifth all-time in games started at VMI (73), Falconi was named the 2006 Big South Freshman of the Year after totaling 15 points, five goals, and five assists in her rat season.  
Chavis Holmes '09
Combining with his brother and fellow inductee Travis, the pair is the most prolific twin-brother basketball scoring duo in NCAA history, passing VMI's own Ramon and Damon Williams. Chavis is one of just six Keydets to score 2,000-plus points, finishing with 2,065 as he averaged 17.4 points per game for his career. A sharpshooter, Chavis ranks third all-time at VMI in made 3-pointers (306) and fifth in three-point field goal percentage (38.5), with 54 games of 20 or more points scored. Chavis was also a threat on the defensive end, totaling 304 steals (second all-time in Big South history) while collecting a 105 in 2008-09 after recording 90 in 2006-07. Helping his teams reach the 2007 and 2009 Big South Championship games, Chavis shined bright as a senior, including playing a key role as VMI topped Kentucky 111-103 followed by a career-high 31-point effort against Virginia.

Travis Holmes '09
VMI's all-time leader in steals (309) and steals per game (2.7), Travis scored 1,733 points during his collegiate career on the hardwood – ranking ninth all-time at VMI. A lockdown defender, Travis was voted the 2006-07 Big South Defensive Player of the Year after a school-record 111 steals. Travis was a prime facilitator of the offense, dishing out 360 assists (9th) in his career as he helped VMI to two Big South Championship game appearances (2007 and 2009). Earning Big South All-Freshman honors in 2005-06, Travis was named to the Big South All-Tournament Team in 2006-07 and the All-Big South Second Team in 2008-09. Pairing up with his brother Chavis as the NCAA's all-time twin scoring duo, Travis totaled a career-high 37 points against UNC Asheville as a senior, scoring 30 in a Big South Tournament opening round win later that season. After collecting another program-record 117 steals as a senior, Travis Holmes is currently the lone player in Big South history to score 1,000 points, 500 rebounds (590), 300 Assists and 300 steals.

Tim Maypray '10 – Posthumously
A factor from the start, Maypray was named the Big South Freshman of the Year in 2006 after averaging 6.8 yards per carry and totaling 244 yards receiving with two touchdowns for the Keydet football program. Maypray was a threat all over the field, being used as a receiver, running back, kick returner and even quarterback en route to 228 career points scored (third all-time at VMI). Maypray would earn First Team Big South honors as a kick returner and Second Team honors as a wide receiver in his sophomore campaign, earning Second Team honors at quarterback in his junior season when he became the first quarterback in the Big South to rush for over 1,000 yards. In his senior season, Maypray earned the 2010 VMI Intercollegiate Athletics Award presented to the most outstanding cadet-athlete after combining for eight touchdowns and 1,861 yards for the Keydets. A member of the Big South All-Decade Team (2000-10), Maypray set the league record for all-purpose yards (6,129) and ranks second all-time at VMI in touchdowns with 38.

Reggie Williams '08
One of just three basketball players to have his jersey retired, Williams led the nation in scoring twice, including his senior year when he averaged 27.8 points, 9.7 rebounds and 3.9 assists per game in 2007-08 to finish his Keydet career as the program's all-time leading scorer (2,556). Williams, who averaged an NCAA-best 28.1 points as a junior, is one of just nine players in history to lead the country in scoring multiple times, etching his name into the history books alongside names like "Pistol" Pete Maravich and Oscar Robertson. A four-year starter, Williams was named to the All-Freshman team as a rat, earning All-Big South honors in 2007 and 2008 while closing his career as the Big South's all-time leading scorer. After his time on post, Williams embarked on a seven-year NBA career (Golden State, Charlotte, San Antonio, Oklahoma City and New Orleans). As a rookie in Golden State in 2009-10, Williams scored 20-plus points nine times and averaged 15.2 points, 4.6 rebounds and 2.8 assists per game.

Kelly Lombard '79 (Veteran Category)
A valuable piece to two SoCon Championship basketball teams (1976 and 1977), Lombard was a three-year starter for the Keydets, dishing out 383 assists (sixth all-time) while often guarding the opposition's top perimeter player. During his tenure, Lombard played with seven teammates who scored 1,000 points and was the program's leader in career assists at the time of graduation. In his rat year, Lombard backed up Hall of Famer Curt Reppart '76 at point guard, playing a crucial role for the 1976 team that upset the University of Richmond in the Southern Conference Tournament, earning an NCAA bid and ultimately reaching the Elite Eight. After earning the starting spot in 1976-77, Lombard helped a VMI team that would reach the Sweet Sixteen while recording a program-record 26 wins. Lettering for four years on the VMI baseball team, the ever-hustling Lombard earned First Team All-SoCon honors as a sophomore and would lead the 1977 team in batting with a .344 average.

Mike Bozeman – Director of Track & Field and Cross Country – Special Citation Category
Bozeman served for 23 years as VMI Director of Track & Field and Cross Country and enhanced the rich tradition of the program during his tenure from 1985 through 2008. Under Bozeman's tutelage, the Keydets captured 12 conference crowns and he earned Conference Coach or Co-Coach-of-the-Year honors 13 times. Bozeman also helped build a viable women's athletic program at the Institute and started the women's cross country team in 1997, adding women's indoor and outdoor programs over the next two years. Bozeman was also instrumental in getting VMI membership into the prestigious Intercollegiate Association of Amateur Athletes of America Conference (IC4A). A 1967 graduate of the Citadel, Bozeman rose to the rank of brigadier general in the U.S. Army Reserves and during his military career earned various awards and decorations including the Silver Star, Bronze Star, Legion of Merit, Air Medal, Meritorious Service Medal, Combat Infantryman's Badge and the Ranger Tab. Bozeman's diverse skills and expertise were called upon by the Institute in many ways. He was Commandant to the Corps of Cadets from June, 1994 to July, 1996 and was VMI's interim athletic director in 1998.

George Tolley – Athletics Statistician – Special Citation
A fixture at VMI athletics home events, Tolley served as chief statistician for VMI football and basketball for 46 years, starting in the hand-written era all the way until 2018 when the games were tracked electronically. Tolley was present for nearly 800 home athletic events and was noted for his pinpoint thoroughness and accuracy. He also served as head statistician for Southern Conference basketball tournaments from the mid-70's until 1989.
-VMI-