VMI Professor Publishes First Book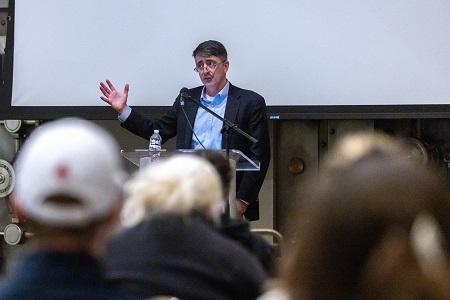 LEXINGTON, Va, June 9, 2023—Col. Ryan R. Holston, professor in the Department of International Studies and Political Science and the Jonathan M. Daniels '61 Chair for Academic Excellence at Virginia Military Institute recently published his first book titled, "Tradition and the Deliberative Turn: A Critique of Contemporary Democratic Theory."
The book is a critique of utopianism as it pertains to modern democratic theory and the way people deliberate in political life. According to Holston, the need for roots and communities to understand one another is often forgotten. "It is important to have political discussions and deliberations in a community in which you can draw on common experiences and a way of life. Persuasion among 300 million people with no shared culture or values is the utopian view," he explained.
In 2020, Holston co-edited a book called "The Historical Mind: Humanistic Renewal in a Post-Constitutional Age" with Justin D. Garrison, Ph.D., associate professor of political science at Roanoke College. Through their ongoing professional relationship, Holston learned from Garrison of a fellowship offered at Roanoke College called "Copenhaver Scholar-In-Residence" for which Garrison nominated Holston who was readily accepted into the program. While he was on sabbatical from VMI during spring semester, Holston spent two days in March at Roanoke College fulfilling his duties as scholar-in-residence, teaching a few of Garrison's classes and interacting with his honors students. "It was a treat to talk with them. They were very impressive students, the best and the brightest. It was an enjoyable experience," reflected Holston.
During his time at Roanoke College, Holston also gave a lecture on Flannery O'Connor, a 20th century American novelist, short story writer, and essayist. He spoke on O'Connor's critique of scientific humanitarianism, as found in her fiction, and her vision of a better way to inhabit the world.
Holston includes a chapter on O'Connor's work in his second book, which he is currently working on that bears the working title of "Promethean Politics: The Cult of Science in the Modern Imagination." The theme of the new book is the authority of science in social and political life. He examines O'Connor's two novels and several of her short stories, but predominately focuses on one short story: "The Lame Shall Enter First." According to Holston, the theme of the short story is using science to improve people's lives. "But there is a danger in doing that, with the potential to be tyrannical, and distracts us from our real responsibilities. It tends to make us neglectful of our own problems in focusing on the reform of others. Violence is a theme throughout her works and makes for interesting reading. She has a compelling use of the imagination that grips the reader," he said. O'Connor was critiqued for using graphic violence in her works to shock her readers, to which she responded provocatively, "To the hard of hearing you shout, and for the almost blind you draw large and startling figures."
A similar gothic author Holston examines in the first chapter of his new book is Mary Shelley, the 19th century English novelist who wrote "Frankenstein; or The Modern Prometheus." Like O'Connor, Shelley has a dark sensibility Holston wants to bring to the question of the authority of science, along with a healthy skepticism to the reflexive endorsement of whatever theories science presents.
In the third chapter, Holston looks at Russian novelist, short story writer, essayist, and journalist Fyodor Dostoevsky, and his short story, "Notes from Underground," which also addresses scientific authority in life. For additional chapters, Holston is still considering authors. He hopes to have the book completed by the end of summer 2024.
Both "Tradition and the Deliberative Turn: a Critique of Contemporary Democratic Theory" and "The Historical Mind: Humanistic Renewal in a Post-Constitutional Age" are published by SUNY Press and may be purchased by going to their website.
Marianne Hause
Communications & Marketing
VIRGINIA MILITARY INSTITUTE