Futurist Speaks at Convocation Kicking Off VMI's 184th Academic Year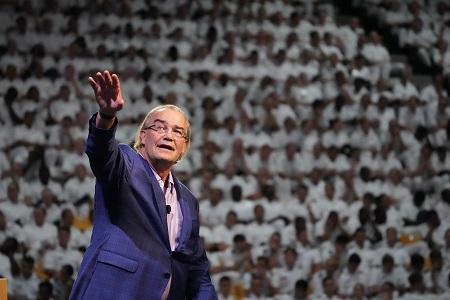 LEXINGTON, Va., Sept. 6, 2023—The Academic Convocation ceremony was held at Virginia Military Institute on Wednesday, Sept. 6 in Cameron Hall, opening the 184th academic year.
Brig. Gen. Robert Moreschi, dean of the faculty and deputy superintendent for academics, welcomed the Corps of Cadets, members of the academic board, other faculty, staff, and guests, and especially the Rat Mass to their first convocation, marking a moment to pause and celebrate a fresh start. He thanked the alumni and other benefactors for their generous support of VMI programs and initiatives. Moreschi also recognized the cadets distinguished in academic merit who were present, as well as the many contributions of the faculty over the past academic year.
Maj. Gen. Cedric T. Wins '85, superintendent, noted that the Institute has experienced many changes since its founding. "Teaching methods are modernized, our facilities are state-of-the-art, opportunities for cadets are expanding, and our daily schedule has evolved. However, it is also important to review our fundamentals and to stay focused on our true north. We know VMI is a school like no other and some things will never change. Those of course are our foundational principles that make our system of education unique: the Honor Code, our class and our regimental systems, and the physical demands that begin with the Rat Line. Our foundation has not changed from its inception. We are firmly rooted in a strong sense of honor and service in everything that we do. Cadets come here to learn in the classroom, but also to become leaders and commit to a life of honor and integrity. Our method of education is unique, and our expectations are high. These fundamental values have proven themselves to produce cadets who live a life of service rooted in civility," he said.
Wins added that VMI has a tradition of bringing in diverse groups of speakers from all walks of life. "One of the greatest ways to learn is to hear about the experiences of those who have gone before us. I challenge every cadet to take advantage of these valuable opportunities. Listen to the great leaders in our society, contemplate what they have to say, and apply those lessons learned to our daily lives." With that, he introduced the keynote speaker, Peter Leyden, a futurist, tech expert, and foresight advisor.
Leyden opened his talk by sharing a commonality with the cadets, that he attended a military academy during high school years, and credits his military upbringing for the leadership and public speaking skills that enable him to stand up in front of large groups all over the world.
In his talk titled, "The Transformation of Our World to 2050," Leyden speculates that there is a new era of human progress, that of an age of artificial intelligence (AI). "All through civilization's history, we had basically developed with our own muscle power, and the power of animals. Then in the Industrial Revolution, we figured out how to create mechanical machines and amplified our physical powers. But up until now, anything to do with intelligence, had to do with human brains. Now we have crossed a huge threshold into creating machines that can act intelligently, and we won't be going back," he said.
Leyden stated that governments and big companies have been wrestling with AI and developing it in cruder forms for a couple decades, but a new breakthrough allows nearly any human to talk in their own language to computers, and the artificial intelligence, and get back the answers they seek in that same language.
Leyden thinks that there are many positive things that could come out of the development of AI. "It looks probable that every worker in the country - if not in the world - is going to have a virtual assistant, and every K through 12 student will have an individual tutor which will amp up learning possibilities in ways that we never anticipated. AI might be able to make health care less expensive and provide personalized, constant health care monitoring," he said, but conceded that there are risks in the use of AI. "Any general purpose technology can be used for bad things too. Some of the negative things are going to have to do with defense, because there are going to be bad people using this technology for difficult things."
He continued by stating that the world is changing, and relying on his track record, he predicted that the world's challenge for the next 40 years is going to be around climate change. "Our energy system is rapidly moving to clean; our transportation is even faster moving to electric; our culture is pretty much getting more dominated by the millennial generation and Gen Z politics; progressive economics has a bigger role; politics is now shifting from the Middle East to China and the rest of Asia, partly because of the human populations there, but also because of the rise of China. Some people might feel things are falling to pieces and it's horrible, others may be energized about the future. I make the argument that many of these shifts actually bode well for progress, far from a gloom and doom future."
In addressing directly to cadets Leyden concluded, "We are looking into potentially another great age of progress, similar to what America has been through many times before. I think we're going to find by the end of the century, some kind of totally sustainable way that the world will operate.
You are entering the most fascinating and amazing 25 years that planet Earth has been through for a long time. You are going to live lives that will blow your mind, with the changes that are coming, and the possibilities that are out there. As you start this new year, keep in mind you are living some extraordinary history, and you will live some extraordinary lives,"
Leyden is founder of Reinvent Futures, where he serves as strategic adviser to senior leaders of organizations. He hosts both virtual and in-person events that bring together top innovators from diverse fields impacting the future. He co-authored two influential books on the future: "The Long Boom: A Vision For The Coming Age of Prosperity" and "What's Next?: Exploring the New Terrain for Business." He also writes online pieces including, "The Great Progression: 2025 to 2050," and is regularly interviewed by the media and podcasts.
Leyden was managing editor of WIRED magazine in the 1990s, and learned the futures business while working for Global Business Network. He spent a four-year cycle helping transition politics to the internet and served on Barack Obama's Technology and Media Advisory Committee during his 2008 presidential campaign.
Leyden started his career as a journalist, including working as a foreign correspondent in Asia for Newsweek magazine, and has traveled to more than 50 countries.
He graduated summa sum laude from Georgetown University in Washington D.C. and has two master's degrees from Columbia University in New York.
Marianne Hause
Communications & Marketing
VIRGINIA MILITARY INSTITUTE