Marshall Foundation Hosts Teachers Seminar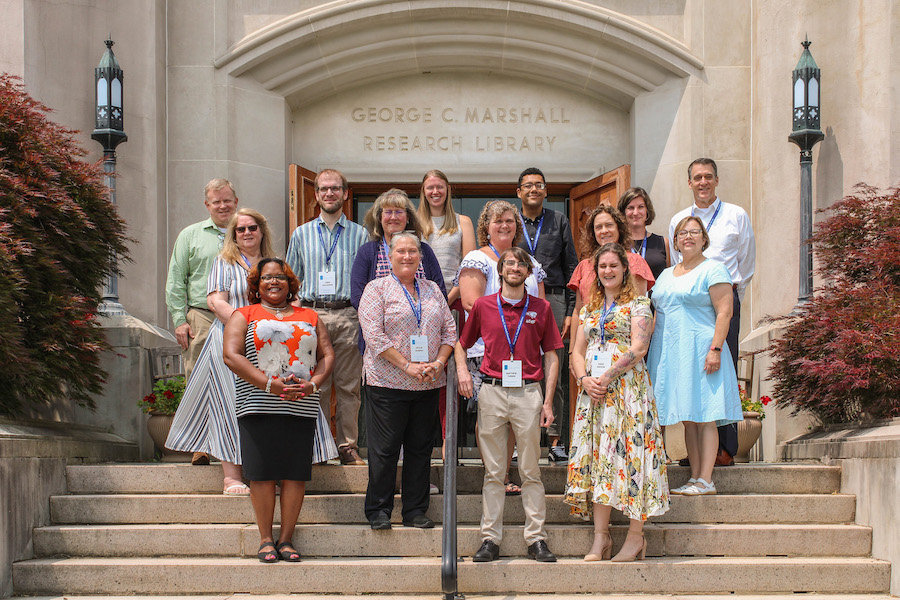 LEXINGTON, Va. Sept. 6, 2023 — The George C. Marshall Foundation hosted a week-long professional development seminar recently for secondary school teachers from across Virginia. The program, spearheaded by Dr. Bradley Coleman '95, former history professor at VMI, allowed the participants to discover resources, network with historians, educators, economists, and develop lesson plans.
According to Coleman, Marshall is an essential part of 20th century U.S. and world history. "He appears in the Virginia Standards of Learning, but most educators are not equipped to teach Marshall. He is a vehicle for learning about the past, and a model for ethical leadership and conduct. The lessons of the Marshall story are relevant today," he said.
Marshall is best known for organizing victory in World War II, served as Secretary of State under President Truman, and later as Secretary of Defense during the onset of the Korean War. He was awarded the Nobel Peace Prize in 1953 for his advocacy for the Marshall Plan, an unprecedented humanitarian relief effort that saved Western Europe from economic chaos and prevented it from falling under Soviet control. The George C. Marshall Foundation preserves his legacy through research, digital resources, and educational programs.
Dr. Paul Levengood, Marshall Foundation president, was impressed with the dedication and creativity of the teachers who attended the seminar. "They will teach in excess of 1,200 students this school year, and I know they will use what they learned here to help these young people understand that Marshall's accomplishments are central to understanding the 20th century. This group of educators renews my faith in the possibility to make real change through education," he said.
Looking toward next year Coleman added, "The lessons learned in 2023 will shape future offerings—we are dedicated to continuous improvement. We have the opportunity to transform the way Marshall is taught in middle and high school classrooms."
To learn more about the Marshall Foundation or to sign up for the 2024 Teachers Institute waitlist, visit the website.
Marianne Hause
Communications & Marketing
VIRGINIA MILITARY INSTITUTE