Politeness on Post: Cadets Learn Etiquette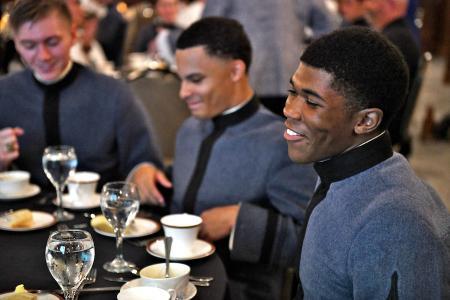 LEXINGTON, Va. Nov. 2, 2023 — Cadets at Virginia Military Institute learned dining and conversation etiquette at an evening event Oct. 26 in Moody Hall. The affair included a four-course dinner, and gave cadets an opportunity to network with alumni and prominent members of the community. The event was sponsored by the Building BRIDGES Club and the Cadet Investment Group, in collaboration with the VMI Office of Career Services and the VMI Alumni Association.
Katie Maher, assistant director of the Office of Career Services opened the event with a short discussion on developing one's elevator pitch, a 30 to 90 second way of introducing oneself. Maher pointed out that an elevator pitch is the appropriate way to start a dinner conversation with an unfamiliar person, and should include one's name, current status, recent past experiences, and plans for the future. Cadets were then given time to practice their elevator pitch at the table with their fellow participants.
Linda Moreschi, wife of Brig. Gen. Robert Moreschi, dean of the faculty and deputy superintendent for academics, led the cadets in dining etiquette throughout the meal.
"We wanted to help cadets approach their upcoming professional lives — whether it be military or civilian — with confidence. They really seemed to enjoy learning some of the intricacies of dining etiquette, and of course enjoyed the delicious meal prepared, served, and donated by Parkhurst Dining," she said.
Moreschi taught the cadets different table place settings they may be exposed to, which utensils to use for the various meal courses, and how to use them. She discussed table manners, and how to properly fold a napkin.
Kyle Bordeaux '22, a computer information systems major from Fredericksburg, Virginia learned a lot about the different aspects of business etiquette during formal events. "I discovered how hard it is to eat a wedge salad while keeping your elbows off the table," he admitted with a laugh. 
Carter Wasser '25, a civil engineering major from King George, Virginia had little education in proper techniques of formal dining prior to the event. "It served as a great trial for future dining events, and was a great opportunity to network with alumni," she said.
Col. Valentina Dimitrova-Grajzl, professor in the Department of Economics and Business and faculty co-advisor for the Building BRIDGES Club shared, "The energy in the room was great! We appreciated the participation of the alumni who chose to spend more than two hours of their evening with the cadets. I am hoping that this was the first of a series of workshops on soft skills."
Marianne Hause
Communications & Marketing
VIRGINIA MILITARY INSTITUTE