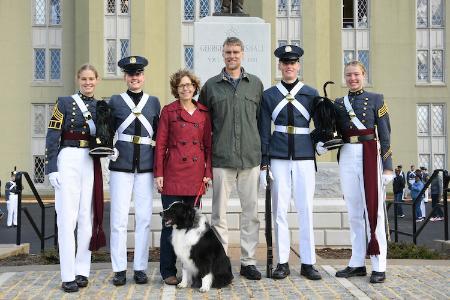 LEXINGTON, Va. Oct. 25, 2023 — VMI hosted Family Weekend Oct. 20-22 with a variety of events and activities. Friday's activities included the Parents Council fall meeting in Marshall Hall. In addition, parents were able to attend Friday classes with their cadets, and meet with faculty members and advisors. That afternoon, ROTC held open-door sessions in Kilbourne Hall, and a talk titled, "Fostering Resilience in Your Cadet" was given by the counseling office in Nichols Hall auditorium. That evening, a Jewish Shabbat dinner was held in the Turman Room of Preston Library, and the Commanders Jazz Band and the Glee Club gave a concert in Memorial Hall. VMI Theatre performed a collection of one-act western plays called "Best of the West" in Gillis Theater to enthusiastic audiences throughout the weekend.
On Saturday morning, barracks were open to visitors, and an invitation-only reception for Honor Cadets and their families was held at the home of Brig. Gen. and Mrs. Robert Moreschi. Tailgating filled the Parade Ground starting in the early hours. The rest of the day was filled pageantry and sports, as the Corps of Cadets marched on the Parade Ground, the men's and women's rifle teams set multiple records in a win against The Citadel in Kilbourne Hall, and the Keydet football team fought vigorously against Samford University in Foster Stadium, but fell short with the final score of 14 – 27.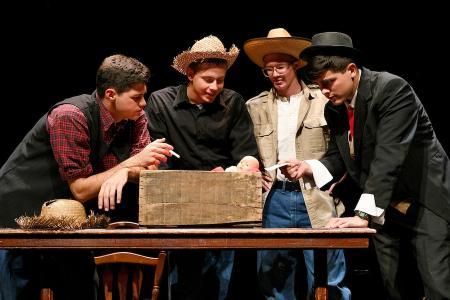 Brad Holley, whose son Garrett matriculated in August enjoyed the weekend. "We were able to meet our son's dyke, Andrew Partridge '24. It's comforting to know that Garrett has someone to turn to for advice and guidance throughout the rigors of the Rat Line.  We got to see his room in barracks, and loved meeting his fellow brother rats. The parade, tailgating, and football game were a lot of fun. Most of all we enjoyed some much needed family time with our son," he said. 
Ali and Mark Townsend '96 have all four of their children enrolled at VMI. "Family weekend will definitely be featured on our Christmas cards and holiday greetings this year! The weekend was not only a chance for our kids to catch up with us and our family dog, but also a chance for us to catch up with our larger VMI family," stated Mark.
The weekend ended reverently with Catholic and Protestant worship services in Memorial Hall, followed by The weekend ended reverently with Catholic and Protestant worship services in Memorial Hall, Col. John Casper '04, Institute chaplain; Capt. Eli Facemire '19, associate chaplain; and Al Soltis, Fellowship of Christian Athletes director, baptizing a dozen cadets in the chilly Maury River with family and friends in attendance. 
Marianne Hause
Communications & Marketing
VIRGINIA MILITARY INSTITUTE