Retired Green Beret Serves as VMI Leader-in-Residence
LEXINGTON, Va. Oct. 27, 2023 — Retired U.S. Army Brig. Gen. Chris Burns is the Gen. J. H. Binford Peay III '62 Leader-in-Residence (LIR) for the 2023-24 academic year at Virginia Military Institute.
Named in honor of VMI's 14th superintendent, the LIR program is an important part of the Center for Leadership and Ethics' efforts to educate, engage, and inspire cadets, faculty, and staff to develop as leaders, and brings to post people of stature within their fields whose distinguished careers exemplify the citizen-soldier model. Burns' residency amounts to a two-week visit over the course of the academic year, in which he interacts primarily with cadets in various formal and informal settings, including the classroom, barracks, and extracurricular activities.
Burns commissioned in 1987 as a distinguished graduate of the Reserve Officer Training Corps (ROTC) program at the University of Connecticut. Upon graduation, he transferred to the Rhode Island Army National Guard and began training to become a Green Beret. He served in numerous assignments within special operations throughout his career, including command positions supporting Operation Enduring Freedom. Burns completed 37 years of service culminating as commander, Special Operations Command North at Peterson Air Force Base in Colorado.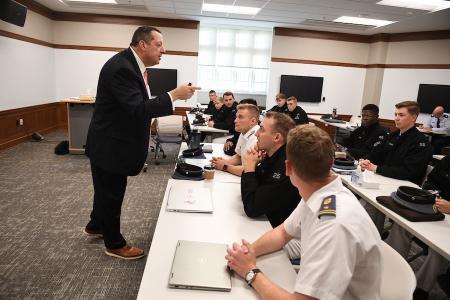 Sitting in on a few classes recently, Burns led cadets in discussions on effective leadership in both the military and private sector. He began by asking the cadets why they chose to come to VMI. After various answers, he responded, "So your reason for being here, your 'why' as I like to call it, can be different from other cadets, but there's still an overarching appeal that brought you to VMI."
Burns stated that while many colleges are struggling with enrollment numbers, the number of matriculants at VMI this year was up. He believes part of the reason is that young people are realizing that they need a leadership element to be successful.
"VMI provides a leadership laboratory. You could go elsewhere and get a master's degree in leadership, but you wouldn't experience leadership. Cadets here are immersed in leadership all day every day. You don't get that if you go to university, even if you're involved in ROTC there," he said.
According to Burns, true leadership is defined when it's raining, when it's hard.
"VMI gives you that space to learn. That's why it's called the Corps of Cadets, because you're learning with each other, helping each other and bonding. You're also learning how to improve. You are placed in a stressful environment to see how you operate, so you understand when you are at your best, and when you start to fray and get tired, so you know to take a break. When you are in a leadership position either in the military, or in civilian life, knowing your limits will serve you well," he advised.
To the cadets who are intimately familiar with the citizen-soldier model, Burns introduced the concept of servant-leadership, and how to care for one's subordinates. "Leadership is me getting the best version of yourself out of you, then making those best versions the best for the organization, and you've got to trust me to be able to accomplish that. Servant-leadership is powerful, you must care about your people."
Burns told the cadets that the people who will report to them will know everything about them.
"You will be the center of their universe. They will know if you cut corners. You represent that organization, and you set the standard, so make sure you raise it. You don't want to lower the standard for them to be successful. I elevated standards not by sitting in my office thinking that my men should walk 20 miles, I went out and walked with them. You set the standard by leading, demonstrating, and setting that standard with them. Then they will get confidence by being part of a great team. I found that with good people, they need that focus, vision, confidence and inspiration. If you can inspire them as a leader, you're going to do great things."
Burns closed his discussion by reading from the book, "Leaders Eat Last" by Simon Sinek.
"This to me is what being a servant-leader is all about, 'Leaders are the ones who run headfirst into the unknown, they rush toward the danger, they put their own interests aside to protect us or to pull us into the future. Leaders would sooner sacrifice what is theirs to save what is ours, and they would never sacrifice what is ours to save what is theirs. This is what it means to be a leader: they choose to go first into danger, headfirst toward the unknown, and when we feel sure they will keep us safe, we will march behind them and work tirelessly to see their vision come to life and proudly call ourselves their followers.'"
Alexa Avery '25, a computer science major from Canton, Georgia, attended Burns' talk.
"I was very intrigued by his perspective of leadership and his history in varying leadership roles. I thought one of the most interesting aspects of leadership he mentioned was that it is important to know yourself and your leadership style. It was also interesting that he mentioned that being pushed to an environment of exhaustion brings out your true leadership abilities and VMI is a place that brings out leadership because we practice it in everyday life here," she said.
Burns holds a master's degree in strategic studies from the U.S. Army War College, a master's degree in business administration from Western Connecticut University, and a bachelor's degree in economics/political from the University of Connecticut. He a member of the National Guard Association of the United States, Special Forces Association, Association of United States Army, and Army National Guard Bureau. He currently works as senior advisor for Irregular Warfare Center, bringing over 34 years of experience and inspirational leadership by leveraging expertise developed in a stellar military career.
Marianne Hause
Communications & Marketing
VIRGINIA MILITARY INSTITUTE