TAPS – Lt. Gen. (Ret.) Charles Dominy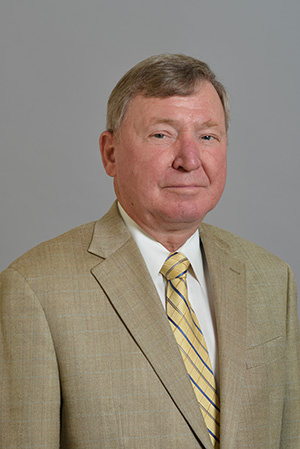 LEXINGTON, Va., Sept. 1, 2023—The Superintendent regrets to inform the VMI community of the death of Lt. Gen. (Ret.) Charles Dominy, a member of the VMI Board of Visitors, Sept. 1 at the age of 83.
Dominy joined the Board of Visitors in the summer of 2016.
"Chuck was a great contributor to our work as a board and was deeply committed to the VMI mission and experience," said Tom Watjen '76, president of the VMI Board of Visitors. "His long and distinguished service to the nation as a top Army officer was a great inspiration to our cadets and many others. His wisdom, candor, and insight will be sorely missed."
He served as government affairs consultant for IAP Worldwide Services, Inc. Prior to joining IAP as vice president of government affairs, he managed the Washington, D.C. Government Affairs office for the Halliburton Company, as well as Kellogg, Brown & Root (KBR), its engineering, construction, and industrial business segment. He joined Halliburton after a distinguished 33-year career in the U.S. Army.
Dominy was directly involved in growing the government business of KBR, which became the Army's largest defense contractor. He advised on mergers and acquisitions, business development, marketing, and overall strategy.
During his years of military service, Dominy served as Director of the Army Staff. He acted on behalf of, and coordinated the activities of all agencies reporting to, the Army Chief of Staff. Prior to that assignment, he served as Chief of Legislative Liaison for all Army activities related to the U.S. Congress, Commanding General of the U.S. Army Missouri River Engineer Division, executive to the Secretary of the Army, and commander of the U.S. Army Savannah Engineer District.
Dominy's awards and decorations include the Distinguished Service Medal, the Legion of Merit (with Oak Leaf Cluster), the Bronze Star (with Oak Leaf Cluster), three Air Medals, the Meritorious Service Medal (with Four Oak Leaf Clusters), the Army Commendation Medal with "V" Device (with Oak Leaf Cluster), the Parachutist Badge, the Ranger Tab, and the Army Staff Identification Badge.
Dominy graduated from the United States Military Academy in 1962. He earned a master's degree in civil engineering from the University of Illinois, as well as degrees from Emory University, the U.S. Army War College, and the U.S. Army Command & General Staff College.
Dominy will be buried at Arlington National Cemetery. Funeral arrangements are not yet available.
- VMI -